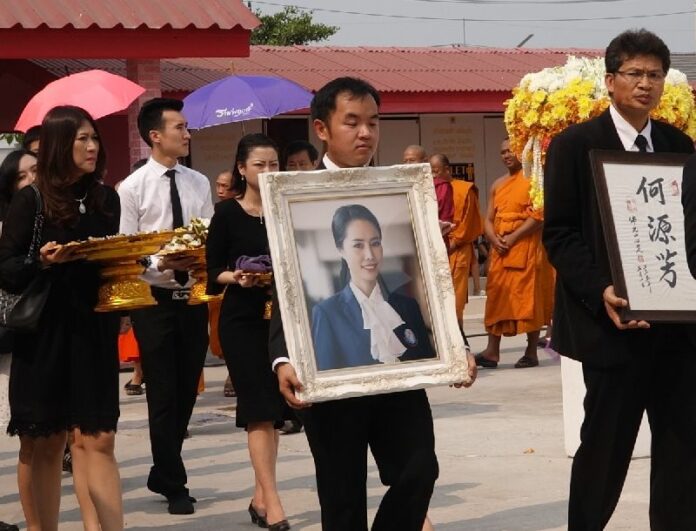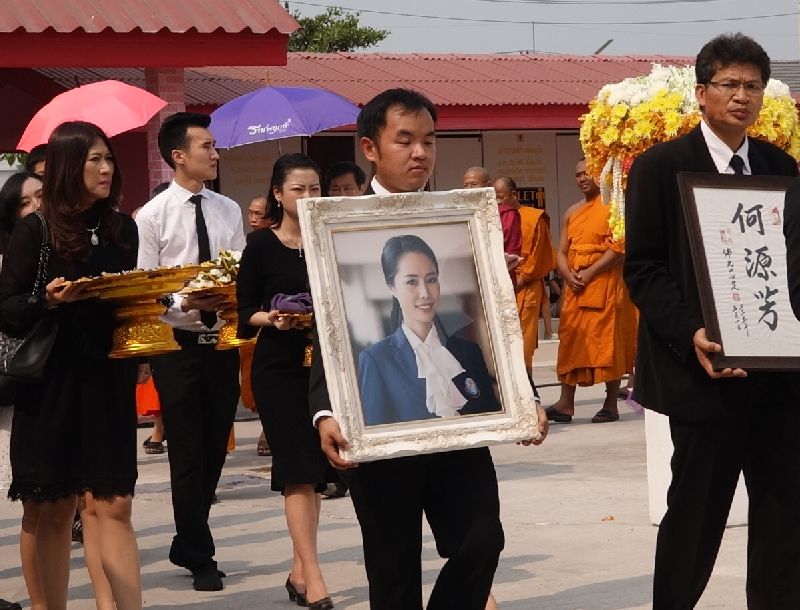 By Teeranai Charuvastra
Staff Reporter
BANGKOK — National police chief Chakthip Chaijinda yesterday offered a rare apology for mishandling the investigation of the wealthy businessman responsible for a deadly car crash in Ayutthaya last week.
Thailand's top cop admitted police were slow in pursuing the case against 37-year-old Jenphop Viraporn and confessed to delays in the investigation, which sparked accusations police granted special treatment to the suspect.
Police not only waited three days before charging Jenphop with any crime, but also failed to test him for alcohol and drug use immediately after the March 13 crash that killed two graduate students.
---
Fresh Charge Against Jenphop as Model Student Victims Laid to Rest
---
"I have to admit that, in this case, police worked too slow. I have received criticism that police acted too slow," Gen. Chakthip said at news conference Monday. "I have to admit that police were flawed in this matter. I accept [criticism] for consideration, and I'd like to apologize to the people for our slow work."
Later in the news conference, Chakthip noted that the case showed police lack "knowledge about the law," citing a senior police officer's remark that he did not insist on conducting a sobriety test on Jenphop because the suspect has the right to refuse the test.
That officer, Col. Pongpat Suksawasdi, was removed from his post as the head of the police station that oversees Jenphop's case after he made the remark on Nation TV.
Chakthip said the transfer order and his decision to hand over the investigation to the provincial police force, shows police are now taking the case seriously.
"Right now, everyone is doing their best. We are proceeding based on evidence," Chakthip said. "We are not neglecting or abandoning the victims, and we are not neglecting the prosecution of the perpetrator."

That Jenphop's victims were themselves popular and devout students on the cusp of graduating from a Buddhist peace studies program has helped draw attention to the state.
The victims, Krissana Thaworn, 32, and Thantapat Horsaengchai, 34, were cremated in their home provinces on Saturday. Both were graduate students at a state-run Buddhist university in Bangkok. Krissana was due to receive his Master's Degree in May, while Thantapat was to have left this past Saturday on a pilgrimage to India.
The pair died when Jenphop slammed his Mercedes-Benz at high speed into the back of their Ford on a highway in Ayutthaya province, less than a kilometer from their university and destination. They died when fire consumed their vehicle.
Jenphop is currently hospitalized in Bangkok for what police described as knee and head injuries. He has not spoken to the press since the accident.
Jenphop has been charged with fatal reckless driving and causing the deaths of others while under the influence.
Related Stories:
Fresh Charge Against Jenphop as Model Student Victims Laid to Rest
Businessman Charged for Fatal Collision Amid Mounting Criticism
Officers In Charge of Ayutthaya Deadly Collision Removed
Jenphop Plowed Through Toll Booth Before Deadly Crash (Video)
Teeranai Charuvastra can be reached at [email protected] and @Teeranai_C.