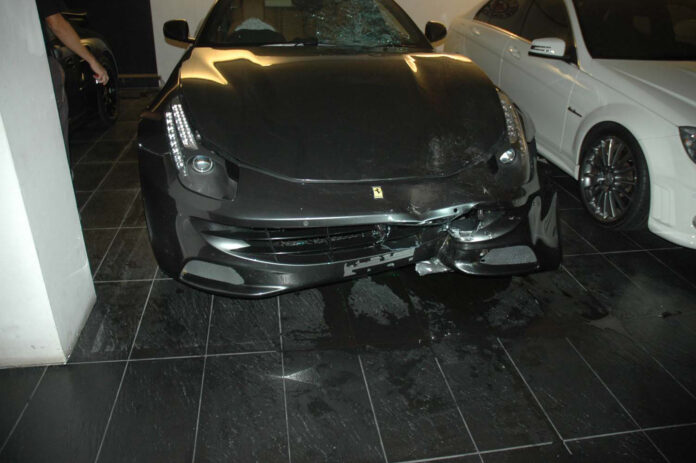 BANGKOK — Four years after billionaire Vorayuth "Boss" Yoovidhya killed a police officer with his Ferrari, and a month after he failed to turn himself in again, the case is again receding from view without so much as an arrest warrant issued.
Although a prosecutor announced in May when Vorayuth failed to appear without reason once again that he would seek a warrant for the arrest of the grandson of Red Bull founder Chaleo Yoovidhya, a spokesman for the Attorney General said Tuesday he has no memory of that statement.
"He said this? When?" Somnuek Siangkong said when asked about statements made at a May 25 news conference by lead prosecutor Suthi Kittisupaporn.
Red Bull Heir Fails to Appear, Again. Given Another Chance, Again.
At the time, Suthi said he'd seek court approval for a warrant within 30 days if Vorayuth, 31, remained a no-show.
Someone answering Suthi's office Tuesday said the prosecutor would not speak on the matter out of fear "his words may affect the case."
According to Somnuek, officials are still trying to bring Vorayuth to court to hear charges of fatal reckless driving for killing 43-year-old policeman Wichian Klanprasert with his Ferrari before fleeing the scene to hide at his nearby mansion in 2012.
While officials assert efforts were being made, they have never detailed what they consisted of.
Somnuek said the case has moved slowly because Vorayuth's family filed a complaint of "unfair treatment" against the prosecutor's office, which officials are obligated to investigate.
Somnuek declined to discuss the matter further, saying he had to attend an important seminar outside Bangkok.
Vorayuth has evaded legal prosecution against him since the fatal crash in September 2012. He didn't show up a number of times in 2013 before eventually leaving to Singapore for "medical treatment," according to his family.
Due to these delays, two previous misdemeanor charges filed against him – speeding and property damage – have already expired. A charge of not reporting the incident to police will expire next year.
The statute of limitations for the most serious charge – fatal reckless driving – won't expire until 2027.
Related stories:
Attorney General Vows to Prosecute Stalled Case Against Red Bull Heir
She Avoided Jail Time For Causing 9 Deaths, Now 'Praewa' Has 9 Weeks to Complete Community Service
Out of Sight and Mind, Actress' Fatal Crash Case Ends Without Jail Time