When it comes to women and their choices of food and drinks, it's a love-hate relationship.
Women are often concerned about their nutritional intake, especially when it comes to sugar and calories. Sappe, a beverage brand that believes in creating innovative products for its customers, wants to capture consumer's insights with innovative technology. Sappe's research found nine in 10 Thai women's happiness decreased when they saw a high calories intake number.
As Sappe focused on bringing theirs consumers healthy bodies and minds, the brand chose an innovative approach to translate brain activity into a visual graphic of what "happiness" looks like.
By using a headset device, to detect brain activity, and 50 years of knowledge in neuro technology, a study of the subconscious and brain's activity, now we can measure the happiness from human emotions. This development can benefit various industries i.e. Medical practice, education, human resources, and also in advertising. Brands and advertisers can understand consumers' experience with their products and services in real-time which is the exact idea with our "Measurable Happiness" campaign.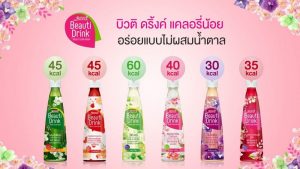 This experiment, which has turned into a viral VDO, tested with group of women trying one the "Sappe Happy Meter." The result of their happiness are the blooming flowers, but when they are unhappy, alarmed, or worried, the flower withered. The result showed women feel stressed in situation concerning physical appearance and health issue, but feel happier after learning that their drinks contains low calories.
The campaign "Measurable Happiness" addresses the fact that Sappe understand women and their concerns.
Sappe does not focus only on women's physical appearance but also on improving their mentality as well. By telling the story through innovative technology, this has defined Sappe Beauti Drink as a beverage brand that hold value in innovative approach which has made Sappe a true leader in health and beauty functional drink brand in Thailand.
"Sappe Beauti Drink" has improved and developed its new innovative formula from its original formula; with changes in benefit, taste, and label. From 248 formulas, Sappe discovered the best 6 formulas which provide 6 different distinctive benefit as following: 1) "Collaskin" contains ingredients that help improve skin's strength and elasticity. 2) "S-lim" works directly with digestive system and carbohydrates absorption. 3) "BeautiEyes" helps
nourish eyesight and normalize good vision. 4) "BeautiLift" promotes youthful complexion and smoothen your skin while maintain healthy bone and teeth. 5) "SilkySalon" contains ingredients for hair nourishment and healthy nails, which is the world's first innovative formula invented especially for hair and nails care.
And 6) "BeautiTox" with ingredients that improves skin radiant from inside and out. This BeautiTox formula also help detoxify your body, reduce body and breathe odor. Moreover, Sappe Beauti Drink contains low calories with no added sugar. All products are available in department stores and convenient stores across the country.
This is a paid advertorial. Khaosod English is not responsible for its content or claims.