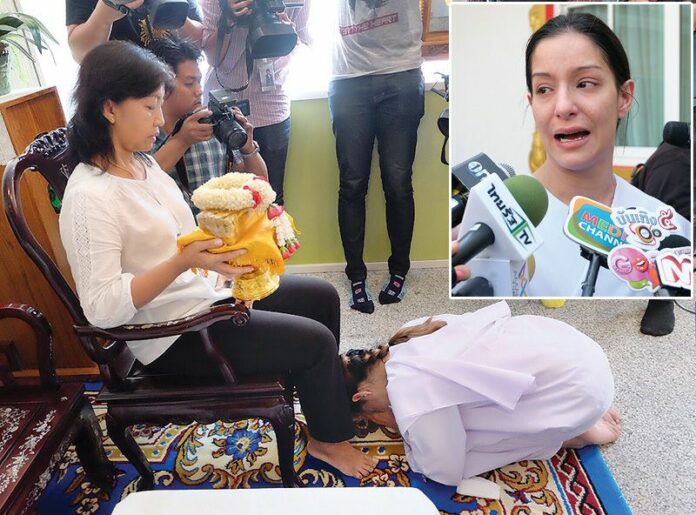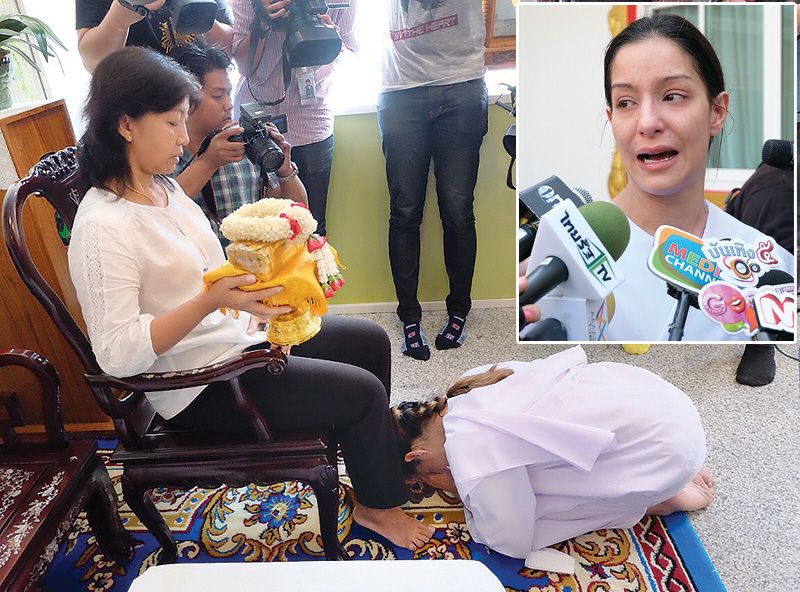 BANGKOK — A Mercedes-Benz caused a fatal impact on the highway, and the well-connected millionaire responsible was allowed to leave the scene without a sobriety test. All hell broke loose online, where a skeptical public criticized the police and complained of a two-tier justice system which shields the wealthy.
That was 11 months ago, when actress Anna Reese killed a police officer sleeping in his car in a case bearing many of the same hallmarks as that in the news today. In both Anna's case and that of Jenphop Viraporn, the media flocked to cover their public displays of atonement, including brief vows of monastic piety – but never contrition.
---
Cops Reprimanded for Bungling Fatal Benz Crash Case
---
While attempting to rehabilitate their images, parallel efforts were underway to minimize criminal culpability through the power of cash compensation.
For many, Anna was yet another reminder of how the privileged seem able to wriggle their way free of accountability. After weeks of much public fury – especially after Anna claimed the officer's ghost forgave her – the media moved on and her case faded from attention.

Lt. Col. Naphadol Wongbundit in Kanchanaburi province just before he died in a photo published to his Facebook account on June 11, 2015.
While the public now waits to see whether Jenphop will be held accountable, it turns out that – without a single mention by the news media – criminal proceedings against Anna ended months ago. The actress remains free.
"It's already over," said Chantana Wongbundit, wife of Naphadol Wongbundit, the officer killed by Anna in June 2015.
Speaking by telephone Tuesday, Chantana said she was not present in court when the verdict was reached. In fact she couldn't recall the date. As will surprise few online skeptics, Anna was spared any jail time as her sentence was suspended, Chantana said.


Actress Anna Reese puts her arms around Chanthana Wongbundit, the wife of Police Lt. Naphadol Wongbundit, at a Bangkok police station on Aug. 22 after agreeing to pay an undisclosed amount of restitution to the family.

Reached for comment, Anna's manager Pattra Saetae said the case was resolved late last year but declined to answer further questions.
"The case was already decided by the court," Pattra later wrote in a written statement sent Tuesday afternoon. "The compensation was successfully paid to the victim, and both parties were satisfied. We have been in contact to encourage each other regularly through the Line application."
Pattra said Anna is still required to check in with the court and perform community service.
Chantana, who was left supporting two children after her husband was killed, declined to answer other questions about the case, including how much compensation she received from Anna.
In August, Anna refused to pay the 6.2 million baht Chantana requested to settle the case, but the parties soon settled for an undisclosed sum. An event was staged for the media where the smiling actress attempted to embrace a visibly distraught Chantana before cameras.
Chantana said she will not contest the court verdict.
"There won't be any appeal," she said.
Related stories:
Fatal Benz Crash Case Reaches Prosecutor's Office
Fresh Charge Against Jenphop as Model Student Victims Laid to Rest
Businessman Charged for Fatal Collision Amid Mounting Criticism
Fatal Benz Crash Case Reaches Prosecutor's Office
Actress Charged With Deadly Car Crash Says Victim's Ghost Forgave Her
'Anna Reese' Rejects 6.2M Settlement Sought By Dead Cop's Family
Anna Reese Settles With Family of Dead Policeman
Teeranai Charuvastra can be reached at [email protected] and @Teeranai_C.
Follow Khaosod English on Facebook and Twitter for news, politics and more from Thailand. To reach Khaosod English about this article or another matter, please contact us by e-mail at [email protected].