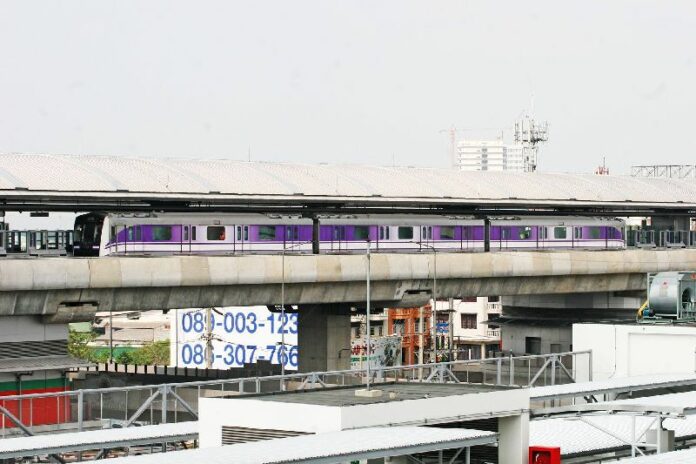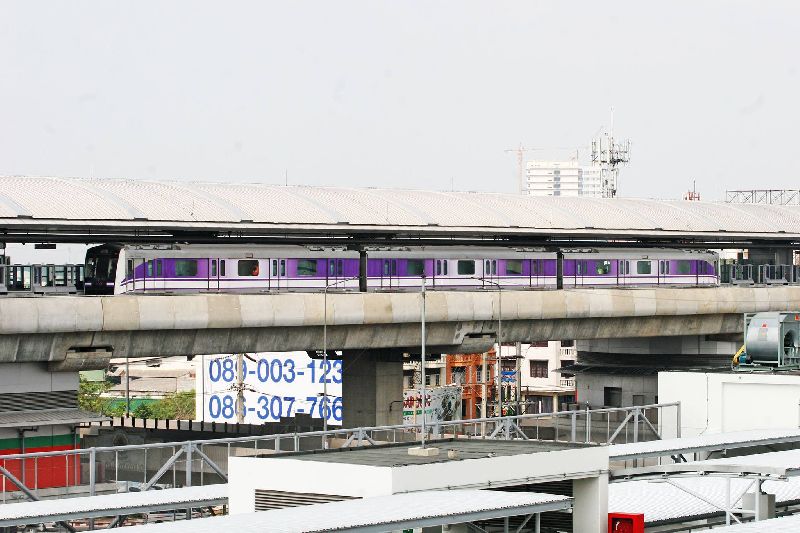 BANGKOK —While it remains to be seen if the MRT's new westward extension will actually connect to the existing subway line, it will finally be ready for test runs next month after many delays.
The 23-kilometer MRT Purple Line extension opened for a media preview Tuesday before its new launch date of Aug. 6. Passengers can register in person to participate in free test runs to be conducted in June and July.
Regular fares for trips between the 16 new stations stretching from the Tao Poon area west of Chatuchak Park across the Chao Phraya River to Nonthaburi's Bang Yai area will range from 14 baht to 40 baht.
A test of the line was originally planned for December 2015, said to be postponed because its Japanese-built cars would not arrive on schedule. Testing was originally planned for six months, then reduced to four, and now two months.
When it is completed, the Purple Line will not connect to the existing Blue Line as the Mass Rapid Transit Authority of Thailand failed to build a planned connecting terminal to link it to the current terminal station at MRT Bang Sue. The authority has proposed a shuttle bus running the kilometer between the two stations. No operator of the bus has been named.
The new Purple Line, which unlike the existing MRT is an elevated line, is expected to accommodate 200,000 passengers daily and provide a significant transportation link between Bangkok and Nonthaburi provinces. Its terminal in Tao Poon is also expected to serve as an important transportation hub. Whether trains ever run between Bang Sue and Tao Poon, it will eventually connect to the Blue Line through an extension running south from Tao Poon to Tha Phra. Tha Phra is on another southwestern extension being built.
Those who are interested in testing the new line must register at one of its forthcoming stations at Klong Bang Phai, Yaek Nonthaburi 1 or Tao Poon. One registered ticket can be used for two passengers, with a maximum of three tickets per passenger.
Participating in a test will require some dedication: The stations being tested will be announced each week and must be registered on a week-by-week basis as follows.
7am-9am, June 5: June 13, 15, 17 test runs

7am-9am, June 12: June 20, 22, 24 test runs

7am-9am, June 19: June 27, 29 and July 1 test runs

7am-9am, 4pm-6pm, June 26: July 4, 6, 8 test runs

7am-9am, 4pm-6pm July 3: July 11, 13, 15 test runs

7amp-9am, 4pm-6pm July 10: July 18, 20, 22 test runs
Related stories:
Trade in Those MRT Cards or Lose the Money
Imagine Bangkok 2016: Better city, less life?
Look Inside Thailand's First Underwater Tunnel (Photos)