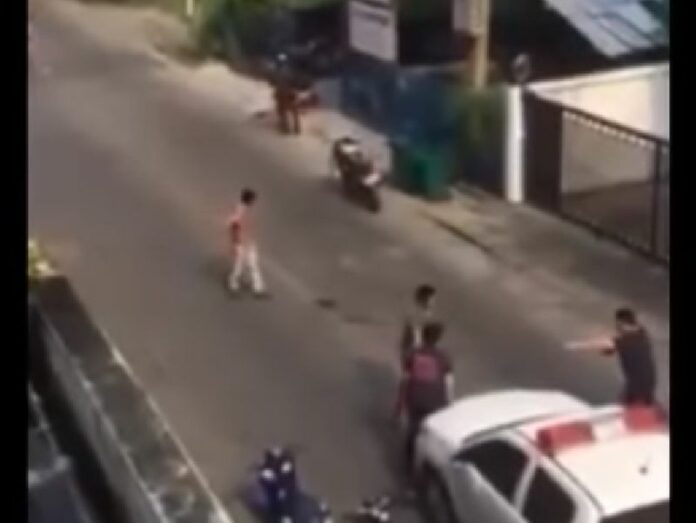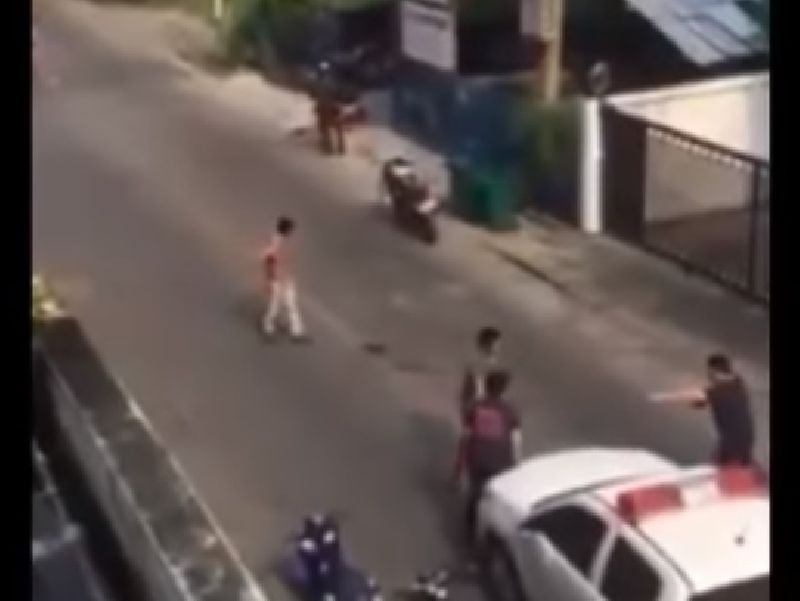 BANGKOK — Ananchai Chaiyadech was working in his office Sunday morning. Outside, a group of young men who had been drinking for six hours passed a bread stall and taunted the disabled man working there.
"They were so drunk, you could see it in their eyes," said the lawyer, estimating they drank from 2am until 8am.
That man, Somkiat Srichan, took offense and shouted back. Ananchai felt both powerless and horrified by what happened next, as he watched the six men use knives and bricks to stab and beat Somkiat, who lacked the use of one leg and tried hopping away, to death in the street.
---
Suspected Killers of Disabled Man Related to Police
---
"Can you imagine seeing someone you know being murdered right in front of you?" Ananchai said. "He kept backing off. He was fleeing for his life. He was cornered in the end, but I couldn't help him."
Several of the suspects continued slashing at Somkiat's lifeless body, according to a police report of the incident, when officers arrived at the scene, prompting them to fire shots into the air to get control of the situation.
Four of the six men arrested for Somkiat's murder were sons of police officers. The entire thing was recorded by a nearby mobile phone camera. That footage went viral after it was posted on social media, drawing widespread attention to the case.
"In my 31 years as a lawyer, I had never seen a person killing another person before," said Ananchai, who is now involved in the case as both lawyer and witness. "And I couldn't do anything to help him."
The six suspects are Arin Yodponganan, 20; Peerapol Yodponganan, 20; Monmanat Sangpho, 22; Akkaradet Thatsana, 22; Mek Polkraisorn, 19; and Jatuporn Chansopha, 18.
Because of his direct experience of the crime, Ananchai said he is now considered a key witness in the criminal investigation.
"I watched him before he died, I watched him as he died, and I watched him after he died," he said.
In fact, Ananchai said, he's the only witness to come forward, as other residents in the area are too scared of possible retaliation from the police.
"Usually, people are already scared of one police officer's son, and in this case, there are four," Ananchai said. "People just want to go on with their lives normally."
The suspects at Monday news conference at Choke Chai Police Station
Nevertheless, the lawyer, who is providing legal counsel to Somkiat's family, said some people have contacted him via Facebook and sent pictures and footage of the murder to be used as evidence in the upcoming trial.
For their part, police said they will be impartial in the investigation, despite some of the suspects' family ties to the force.
"I am not taking this lightly," Sanit Mahathavorn, interim chief of Metropolitan Police Bureau, said at yesterday's news conference. "It is said that the law is here to protect good people and, at the same time, the law is here to prosecute all wrongdoers, no matter who they are."
Lt. Gen. Sanit added, "In this case, police are ready to be fair to all sides. There won't be any privileges."
All of the six suspects have been denied bail and are currently held at Bangkok Remand Prison to await trial, Ananchai said.
He also expressed concern that a girlfriend of one of the six accused murderers verbally abused and threatened members of Somkiat's family at the hospital just after his murder.
"She mocked the deceased at the hospital, she said, 'Serves him right, it's good that he died,' and she said, 'If anything happens to my boyfriend, you will be in trouble,'" Ananchai said.
Suspects escorted to criminal court on Tuesday
Screenshots of what was presented as a Facebook page of the girl, filled with derogatory remarks about Somkiat, have also been shared online, but the page's authenticity is doubtful. It appears to have been created after the murder, using photos lifted from the girl's Instagram account which went inactive over a year ago.
Police withheld her name, saying she was a minor.
Chairop Chunnawat, commander of Chokchai Police Station, told reporters the girl has already been interrogated.
He said it's still too early to say when the case can be sent to prosecutors, citing the need to collect more evidence and witnesses.
Related stories
Suspected Killers of Disabled Man Related to Police
Teeranai Charuvastra can be reached at [email protected] and @Teeranai_C.