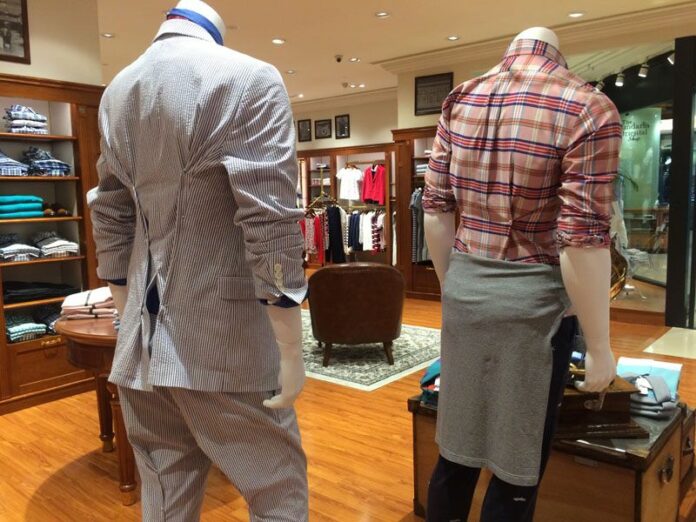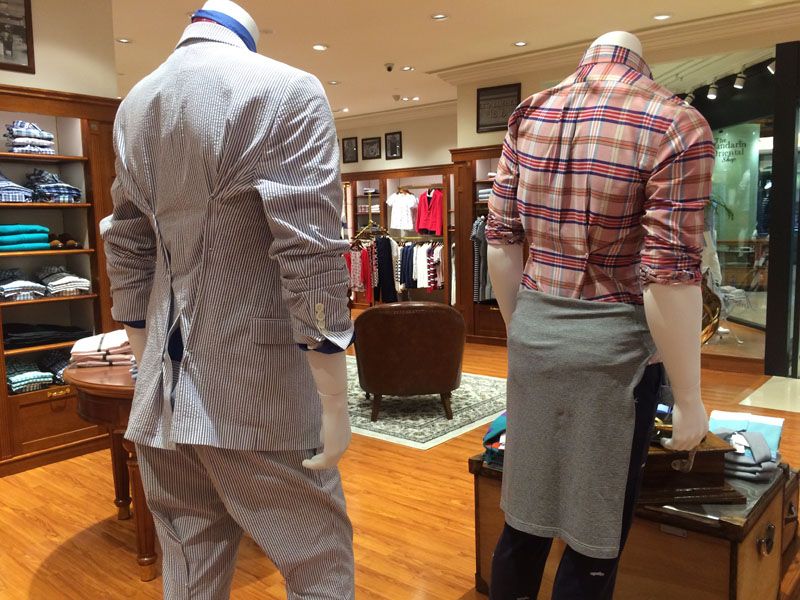 BANGKOK — Stroll through the suburbs of any major American city and find young professionals fronting their Don Draper aspirations in Vineyard Vines and J. Crew, staples of the preppy set.
But the actual Mad Men types living the dream of sailing yachts and swinging big deals on golf courses? They're more likely wearing Brooks Brothers, the unmistakable hallmark of the Classic American Look.
Now, the brand which developed the entire wardrobe for 2013's "The Great Gatsby," can be found in Bangkok, a city filled with its own share of Jimmy Gatzes to dress.
Brooks Brothers landed in Thailand last week with a flagship store at Bangkok's Gaysorn Shopping Mall. Brooks Brothers positions itself as a premium brand, so it fits naturally in the upscale mall bearing the tagline "Your Luxury Moments."
Additional stores are coming to the capital's other high-end malls.
There men will find all the pin-striped Oxfords and Seersucker and other Brooks apparel marked up a little over what they retail for back in the States due to duties.
For those unfamiliar, Brooks Brothers is privately held by an Italian billionaire, but traces its roots to the United States and the early 1800s. It appeals to those who want to make a statement about – or show of – personal wealth and achievement and ties into the "rags to riches" conceit at the heart of the American Dream.
Not only did its fashion adorn the men of hit drama Mad Men, Brooks Brothers suits swaddled the ultra-wealthy characters of Chuck Bass and Nate Archibald on the teen series Gossip Girl.
At Gaysorn, the interior features a finished wood floor, and shelves festooned with garments of various checks, plaids, gingham, and stripes. Brooks Brothers was one of the fashion brands that produced Seersucker as early as the 1950s, and the Bangkok location proudly displays a mannequin sporting a seersucker suit, much like a Southern gentleman might wear in 1920s South Carolina.
But why pay tens of thousands of baht in a city famous for sharp tailors who can cut a fantastic, tailored suit at very reasonable prices?
Pow Foongfaungchaveng, the man behind the Thai fashion brand Timo Trunks well-known in Bangkok for his sartorial sense, said going to Brooks Brothers is "a no brainer" for many.
"The WASPY probably think, 'Well finally the closet has landed in tow,'" he said.
Daniel Giles, a consultant whose job requires a full commitment to looking sharp, said buying an off-the-shelf product from Brooks Brothers may also just be more familiar behavior for some.
"Brands such as Brooks Bros are at once aspirational but also perhaps less intimidating for many than entering a bespoke tailor for the first time." he said.
And a brand name with a solid global following might be more attractive to buyers lacking a specific vision or judgment to take to a tailor.
"Bangkok has many excellent tailors but also a lot of dross, and discerning where to go in the first place can be difficult, especially if you're not sure what you're looking for," Giles said.
Whether you buy into the dream of not, with Brooks Brothers now open, expect to see more classic American style on Thailand's links and yacht decks.