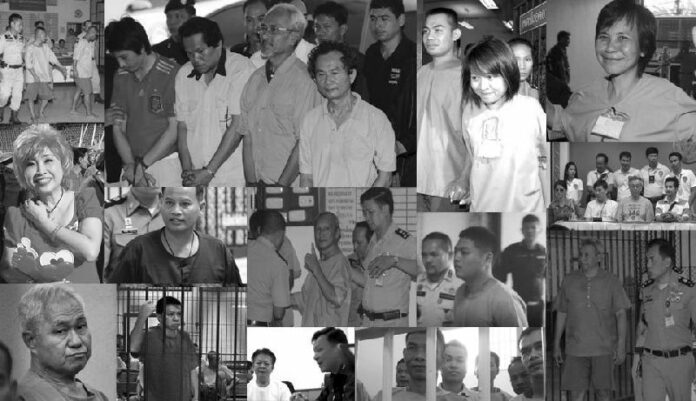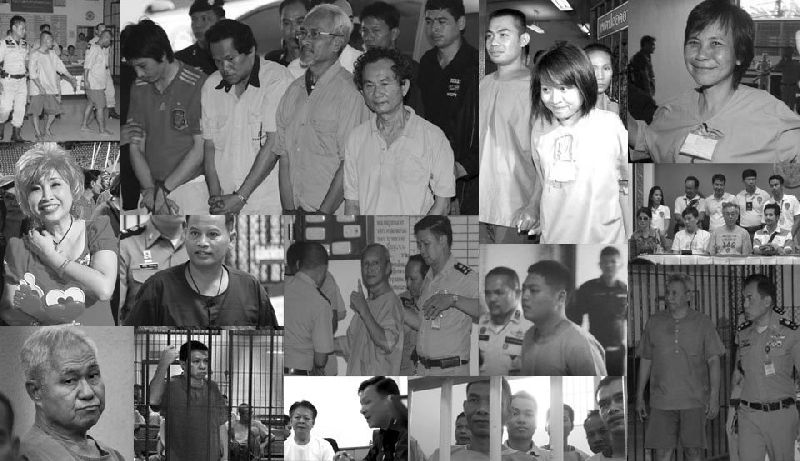 By Pravit Rojanaphruk
Senior Staff Writer
BANGKOK — Held in overcrowded cells which sweltered in summer and soaked in the rain, Ekachai Hongkangwan's nearly three years in prison for defaming the royal family were no walk in the park.
About half a year since he was freed, the former prisoner has co-founded a fundraising initiative asking the public to help Thailand's 50-or-so people held for lese majeste (insulting the monarchy) as well as its approximately 100 political prisoners. It launched a crowdfunding campaign Tuesday.
"I have been inside and I feel empathetic. If I could do something, anything about it, I should. Some are poor, and once released, just have to make ends meet," Ekachai said.
Ekachai now serves not in prison but as the secretary of the newly registered For Friends Association, which obtained legal status in late March and comes as a growing number of inmates are serving lengthy sentences for lese majeste convictions, many of which happen in relative secrecy before military tribunals.
Some have been held much longer than Ekachai, such as Somyos Prueksakasemsuk, the former editor of Voice of Taksin Magazine, who at five years has served half of his 10-year sentence.

For Friends intends to be a transparent and trustworthy fundraising organization for people who want to aid such prisoners – people who have been scammed before.
"In the past there were a number of people and groups that often claimed they were raising money to help these prisoners. Then not all the money reached the [detainees]. Claims of cheating have also been made," said Ekachai, who was released in November after serving two years and eight months for insulting the monarchy.
For Friends launched a crowdfunding initiative on Indiegogo at noon on Tuesday. As of Thursday it had received no support.
The association, with 10 board members, will uphold their commitment to transparency by posting updates of donations and a ledger of how it spends the money on its website at www.ffathailand.com, a Facebook page and also through a Twitter account.
Ekachai said there had been no donations made through PayPal as of noon Wednesday.
"We see PayPal as catering to foreigners concerned about Thai political prisoners," said Ekachai.
The association embarked on its first activity by visiting the eight Facebookers abducted and then charged by the military government with sedition, violating the Computer Crime act. Two among them have also been slapped with charges of lese majeste.


Ekachai, seated second from left, meets with relatives of the 'Facebook 8' in an undated photo tweeted by @FFAThailand
The association visited the detainees Friday and Monday. They gave each of them some toiletries, sweets and syrupy drinks. They also met with relatives of the eight and provided them with some traveling money to visit their loved ones.
Ekachai said in the near future, the association is determined to provide educational assistance, medical care and more.
From his experience, Ekachai said access to doctors was limited for prisoners.
At the Bangkok Remand Prison, he said, there was a clinic but no full-time doctor. A visiting physician could only be seen on days he visited the prison. Some prisoners had to wait days to be seen. He said the association is looking to possibly enlist volunteer doctors to visit political prisoners in order to afford them better medical care.
As for education, Ekachai envisions an English-language course for political prisoners inside detention facilities, although it would be subject to approval by the Department of Corrections.
"Staying in prison was a waste of time," said the 41-year-old Ekachai, referring to the need for educational opportunities in prison.
He was convicted in 2013 of selling DVDs of an Australian Broadcasting Corporation documentary on the future of the Thai monarchy and spreading WikiLeaks papers related to the Thai monarchy.
Ekachai insisted on his innocence all the way to the Supreme Court, saying the content was critical but in no way insulted the monarchy.
From his home in Bangkok's eastern Bang Kapi district, the former convict – a prisoner of conscience to some – sounded determined and purposeful since his November release, when he was unsure of how to make a living.
As for now, the organization is unsure it can even pay his salary.
And given the stigma attached to lese majeste convicts, which could make his work doubly difficult, Ekachai said he's well aware of the climate under the junta.
"I am preparing my heart to be arrested again if the powers that be feel irritated and trump up charges."
Related stories:
Families of Detained Facebookers Speak Out
Freed Lese Majeste Offender Loses Faith in UDD, Pins Hope on 'Ordinary Folks'