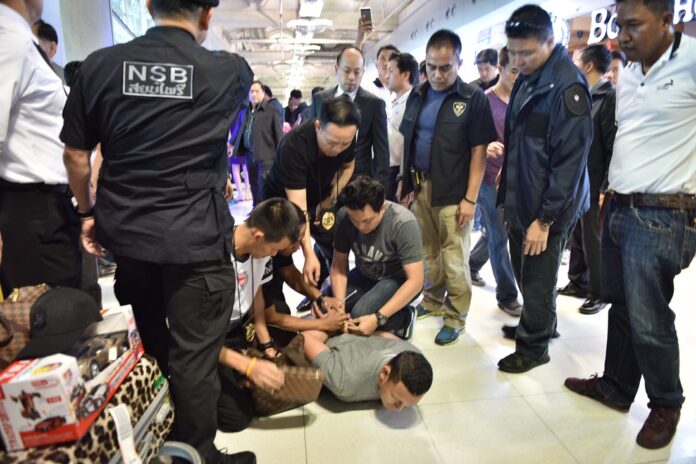 BANGKOK — Police on Thursday arrested a Laotian national identified by police as the "biggest drug lord" in Thailand's northeastern region, moments after he stepped off a plane at an airport in Bangkok.
The dramatic arrest of Xaysana Keopimpha took place in front of hundreds of tourists and commuters at Suvarnabhumi Airport's arrival hall at about 5pm. An officer from the anti-narcotics police unit said Xaysana let his guard down and flew from Phuket to Bangkok without knowing police were waiting to ambush him.
"We have been monitoring him for a long time now," Suppakit Srichannon, deputy commander of the Narcotics Suppression Bureau, said by telephone. "He probably didn't expect that we would manage to get him."
The 41-year-old Laotian was traveling in Phuket with his companions before flying to the capital city for sightseeing, Maj. Gen. Suppakit said. He added that police were aware of his travel plan and so they planned to arrest him in Bangkok.
Xaysana is wanted on allegations of running a transnational drug network that operates in parts of Laos and Thailand's Isaan region. His arrest is a huge blow to the rest of his organization, according to Suppakit.
"He's the biggest drug lord in Isaan," Suppakit said.
The major general said police commandos were raiding "more than 20 buildings" across Thailand to look for Xaysana's accomplices at the time of writing.
Related stories: 
Suspected Kingpin of Thai Trafficking Ring Arrested