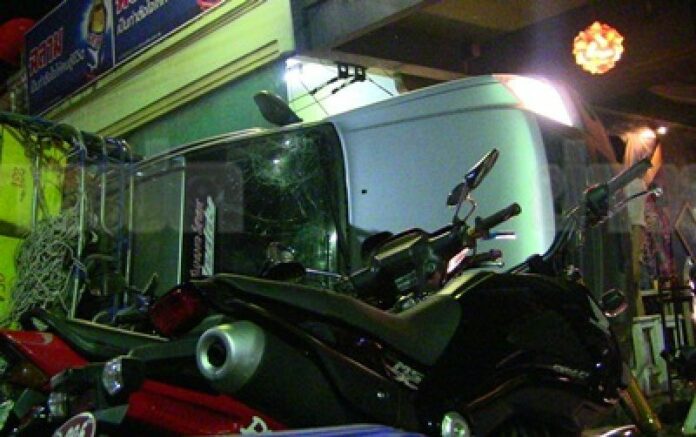 (6 May) A disaster was closely averted last night in Ranong province after a pickup truck crashed into 15 vehicles near a roadside sports bar where scores of patrons were watching Man Utd – Chelsea match broadcast.
The accident took place on Ruangrat Road around 22.30 on 5 May. Police and volunteer rescue
teams at the scene had rescued the driver of the pickup truck who was ejected from his seat after it
plunged into 14 motorcycles and 1 car. He was identified as Mr. Somyos Yomkaew, 30, and was sent to
Ranong Hospital.
Many witnesses at the nearby nighttime restaurant said they owned the
vehicles damaged by Mr. Somyos? car. They said they were watching live broadcast of Manchester
United – Chelsea match when the pickup truck slammed into the parking space of the establishment.
The pickup truck first slammed into a parked pickup truck, and was launched on top of 3
parked motorcycles, then flipped and landed on another motorcycle. It then skidded and damaged 10
more motorcycles parked in the area, all vehicles piling up in one big mountain of
wreckage.
Mr. Krisna Glinhual, owner of the white Chevrolet damaged in the accident, said
that he was sitting at the table and heard a sound similar to many fire crackers going off and
turned to see the truck colliding with his car and several others before flipping and landing only
meters from where people were watching the broadcast.
At the hospital, Mr. Somyos said he
dozed off from fatigue while driving and had no recollection of the accident.
The 2 trucks
and 14 motorcycles were taken to the Muang Ranong Police Station to investigate the damage, and
officers questioned the driver for further information to determine the compensation for damage
caused.