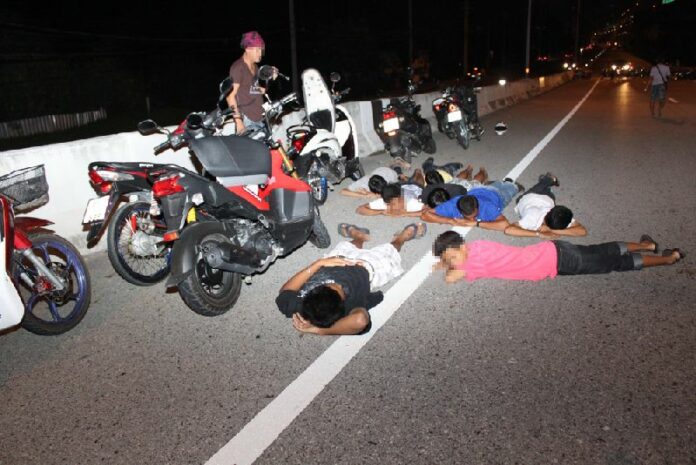 (6 May) Around 50 "Dek Van" (teen biker gangs) were arrested early morning today following a major police operation in Samutprakarn province.
Pol.Maj.Gen. Tatchai Hongthong, police commander of Samutprakarn, headed the operation which took place around 04.30 this morning. 60 police officers were positioned along the Bangna-Trad Road near Suwannabhumi Airport and managed to intercept many motorcyclists racing down the highway.
Police placed pickup trucks to block the exits, preventing the teenagers from escaping, while some abandoned their vehicles and fled the scene.
Police said they have apprehended 49 individuals aged 14-24 along with the confiscation of 57 motorcycles and 3 cars. Pol.Col. Kongpol Wongchun was injured in this operation and sent to hospital.
A senior police officer at Bangkaew police station told our correspondent his team had been receiving reports that every weekend, this group of teenagers gather on their motorcycles and raced along the highway, causing nuisance to local residents and posing harms to other motorists.
All vehicles were seized as evidence and the Dek Van were taken to the police station for drug tests and criminal records.
Parents were also contacted and questioned in their involvement since the vehicles confiscated were mostly expensive and new. If found guilty of aiding these
gangsters, parents may face up to 3 months in prison and 30,000 baht in fines to negligence.
Nighttime adventures by these Dek Van are problems universally experienced by residents in Thailand′s major cities like Bangkok and Chiang Mai.