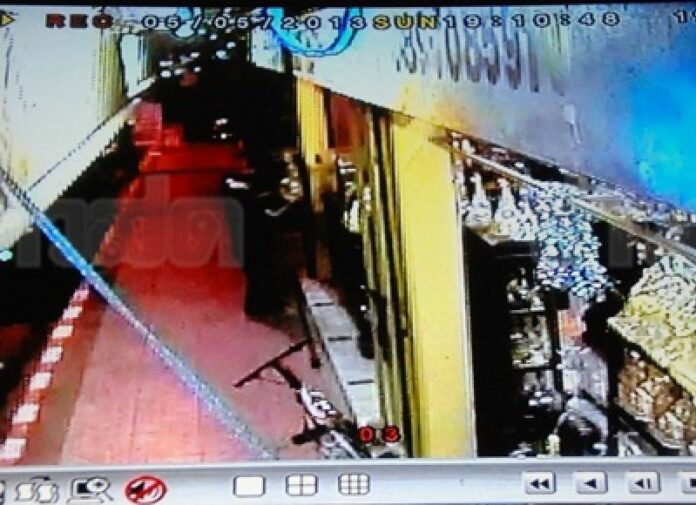 (6 May) A shopowner in Pitsanulok province posted on Facebook a video showing a thief stealing a Buddhachinaraj Buddha figure from her shop, generating much attention from other Facebookers.
Our correspondent has reported that the shop is called Sabiengboong and located only 50 meters away from a police station.
In an interview, Ms. Akeorn Meetes, 43, said her shop sells temple-related goods and Buddha statues. On May 5th, 7.30 PM., she and an employee were closing up the shop and discovered that 9 inch statue, weighing 10 kgs. had disappeared from its stand. She then looked through the security camera footage and discovered that at 7.10 PM., a young man aged 20-30 who was tall and thin, wearing a motorcycle helmet to conceal his face, walked into the side entrance and carried the Buddha statue away.
Mrs. Akeorn speculated that he must have had friends waiting in a getaway motorcycle since the Buddha statue was big and he couldn't have done it by himself.
Mrs. Akeorn also added that she later questioned the shops nearby and found the statue's plastic box that the culprit has left behind. She speculated that the criminal must have surveyed the area beforehand, since he got away with one of the more expensive statues. She went to the Muang Pitsanulok police station to press charges, bringing along the footage from the security camera and the plastic box, which she hopes contains the culprit's fingerprints, as evidence for the case.