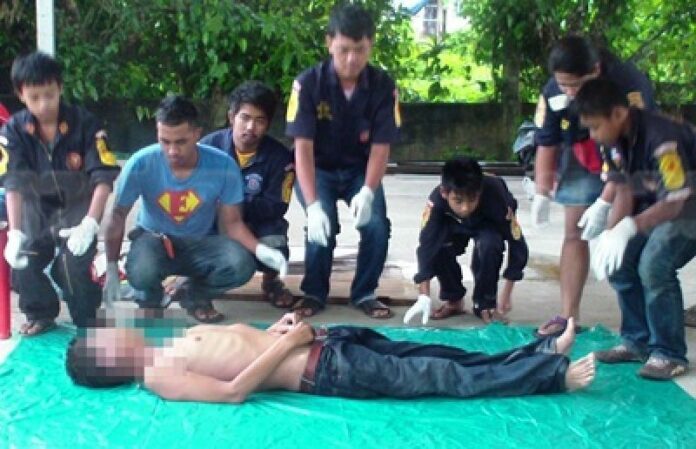 (6 May) A man reportedly drank himself to death early today in Chumpon province.
The incident took place at a large house in the middle of Lang Suan market. The dead body of Mr. Sai Taengtong, 46, was found in the wooden gazebo at the estate′s workers residence, behind the main
mansion. The body was foaming at the mouth and had no other wounds or evidence of struggle.
Upon questioning his friends, it was revealed that Mr.Sai had traveled from Ubon Ratchathani Province and worked as the foreman of the household workers for a construction company in Chumpon′s Langsuan district. He had been staying at this house which belonged to the owner of the construction company.
According to witnesses, early yesterday evening, Mr.Sai asked his friend to buy him some liquor and would not come out to have dinner. When he finished the bottle of liquor, his friends put him in a mosquito net so he could sleep through the night.
In the morning, witnesses said, workers went by to check up on him and found he was lying stiffly dead foaming at the mouth. They proceeded to call the police. Initial diagnosis suggests he died of alcohol poisoning, which caused his heart failure.