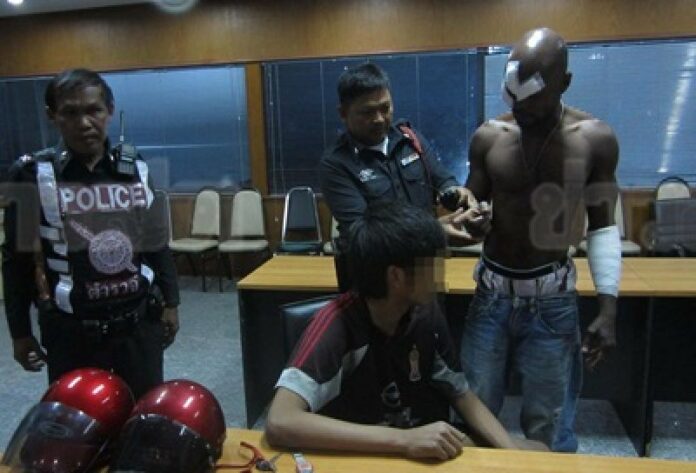 (8 May) Mueang Pattaya police station received reports of a mugging at Jomtien Road 2, stating that the victim was a foreign man and a Thai woman who were on motorcycles. Police quickly closed off the road to search for the suspect.
Later, police received reports that the victim was able to catch up to the suspect at the entrance of Soi Potisarn on the Sukhumvit side and was able to capture 1 suspect. The foreigner and the Thai woman were injured in the motorcycle chase.
At the scene, Mr. A (real name undisclosed for legal reason), 16, was apprehended and taken in for questioning. He informed police that his conspirator Mr. B, 16, was able to escape with a portion of the stolen goods.
Meanwhile, the injured victims were taken to Banglamoong hospital. After leaving the hospital, the two victims arrived at the Mueang Pattaya police station to identify the suspect. Ms. Somwung Siringon, 45, hit the suspect with a motorcycle helmet in anger and the police had to intervene.
Upon questioning, Ms.Somwung revealed that she and her boyfriend, a Liberian footballer named Mr.Barclay Saydee, 32, were on their way back to their lodging on a motorcycle when 2 teenagers on motorcycles came up on either side of them and pulled her purse away.
Her boyfriend then chased the culprits and was able to catch up to them at the entrance of Soi Potisarn on the Sukhumvit side. He drove straight into the motorcycle and she was able to grab the man on the back and her purse. Both motorcycles lost balance and both Ms.Somwung and Mr.Barclay were injured. One of the culprits was able to escape. The purse was retrieved but the wallet was still missing.
Police said Mr. A confessed to the theft, implicating Mr. B. He stated that this was his first offense and he did it for some extra cash so he can entertain himself in the city. Police investigators are not buying the deposition and believe that these two have mugged many tourists in the area. Investigation is ongoing.