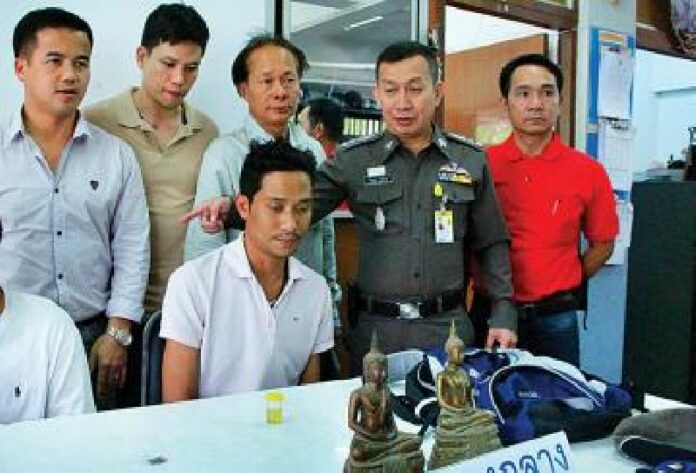 (10 May) Chiang Mai police arrested an unemployed Ratchapat University graduate accused of stealing Buddha statues in a Guan Yin shrine.
9 May, 13.00 PM, Pol.Col. Aksorn Wongyai, director of Mueang Chiang Mai police station, along with investigative officers said in a press conference that Mr.Piteeprom (Note) Petcharanasungkul, 36, was apprehended in front of Win Place Hotel. Police seized 2 Buddha statues and a grey-black Suzuki motorcycle.
Pol.Col.Aksorn revealed that investigative officers received reports from the Chinese monk at the Guan Yin shrine, Chiang Mai province, that the suspect stole Buddha statues from inside the shrine and was stopped by a security guard at Win Place hotel. The suspect was then taken to the Mueang Chiang Mai police station.
He also added that the suspect confessed to being the son of a police officer under the Narcotics Unit in the north of Thailand. He also informed police that he had graduated from Ratchapat University, and before this he used to be an insurance salesman.
Reportedly, after he lost his job, he decided to steal the statues and planned to sell them for some cash.
Guan Yong, the Chinese monk, said that before the incident, the suspect arrived via motorcycle and was carrying a large navy black pack.
He seemed fidgety, the monk said.
The monk also remembered seeing the suspect in the shrine a couple times before the incident, so he went out and took a photograph of the suspect's motorcycle. When he saw the suspect approach the Buddha statues, he realised the suspect was picking up the statues and putting them in his bag.
The suspect then walked out in the direction of Win Place Hotel. The Chinese monk then called the security guard of that hotel for help.