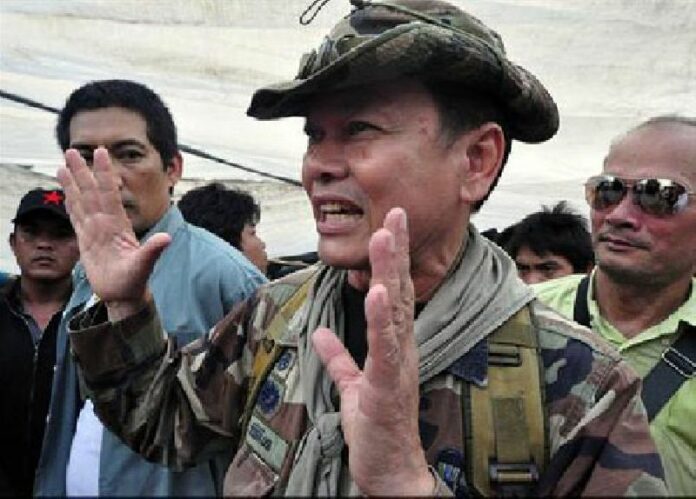 (13 May) Supporters of the rogue general who sympathized with the Redshirts during their 2010 Bangkok protests gathered to commemorate his death at the spot where he was fatally wounded by sniper fire 3 years ago.
Maj.Gen. Khattiya Sawasdipol, commonly
known as Seh Dang (Commander Red), was talking to foreign journalists
at the southern end of Redshirts
camp near Lumpini Park, on the eve of week-long military campaign to dislodge
the Redshirts,
whenhe
was shot in the head by unknown assailants. He died few days later in hospital.
Today, more than 300 Redshirts marked his death in a religious
ceremony conducted by 10 monks near the spot he was shot. His
daughter, Ms. Khattiyar Sawasdipol, was also present at the
ceremony.
Mr. Thanakorn Maneechote, representative of Seh Dang Lovers Group which organized the event, said
there are people who remain deeply fond of Commander Red.
He said the previous anniversaries were focused on politics, but this year his group wants to
focus on messages of love, faith, and mourning.
People in our group have different memories about
Commander Red, Mr. Thanakorn said.
Mr. Thanakorn added that his group planned to
march around Lumpini Park later today to honor Commander Red and demand the government to
pass Amnesty Bill so that society can start their reconciliation. Speeches and other activities are scheduled to take place this evening as
well.
Speaking to our
correspondent, Ms. Khattiyar – who is currently a Pheu Thai Party MP – said that she was glad to see so many
Redshirts remembering her father even thought it′s been 3 years since
he passed away.
It means the Redshirts are
still waiting for justice for my father and many other martyrs who
lost their lives in the 2010 protests, Ms. Khattiyar
said.