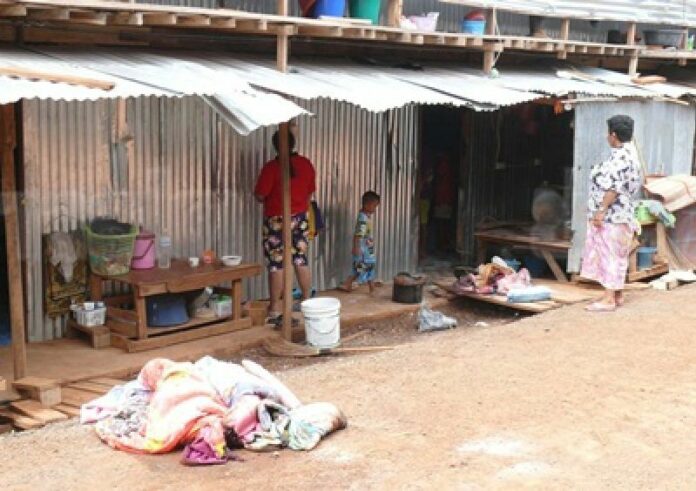 (12 May) Fights broke out between hundreds of Thai and Burmese workers wielding makeshift weapons at construction site in Nakhon Ratchasima province.
The police received the report about the violence around 12.20. The workers belong to the Sino-Thai Engineering and Construction Ltd. which was assigned to constructing the offices of Charoen Pokphand Group (CP) in the area.
Reports say the workers, who live on the construction site, wielded iron pipes, wooden poles, and knives as weapons. The Burmese workers also reportedly burned down the Thai worker's camp site.
Police then informed Nong Nam Daeng fire department and rushed to the scene with more than 100 investigative officers and rescue foundation workers. After on scene investigations, the space was undergoing construction of the mast cleat. Behind the construction site is the camp site for workers to live, housing almost 500 workers.
Burmese workers were seen standing in front of the Left camp site holding iron pipes in a large group. Room number 421-422, belonging to a Thai worker, was badly damaged by fire. A Burmese worker was also stabbed in the back and was sent to Paakchong hospital. However, our correspondent added that the injured Burmese worker would not let doctors treat his wounds, made a scene, and fled the hospital.
Meanwhile, the safety manager and the foreman of the construction crew, along with translators, were trying to cool down the incident while police looked over the area.
Mr.Nattapol Sothorn, 46, safety manager of the construction crew, informed police that the incident stemmed from Sunday, which was some of the workers' day off. Some workers were drinking and playing loud music, then a fistfight broke out.
The translator and a Thai worker entered the area and tried to break out the fight, but chaos broke out soon after, which was during the lunch break, and one Burmese worker was stabbed by a Thai worker. Then, the Burmese workers entered the Thai worker's camp site and started burning the camp. The workers who were on duty joined in as well, Mr. Nattapol said.
The situation at the worker's camp site remains tense, with some of the Burmese workers forming a front, with weapons, in front of their camp. Police force remained at the scene until the management staff of Sino-Thai managed to finish negotiations with the workers.
The victim or arson was advised to press charges, calling for 10,000 baht in damages.