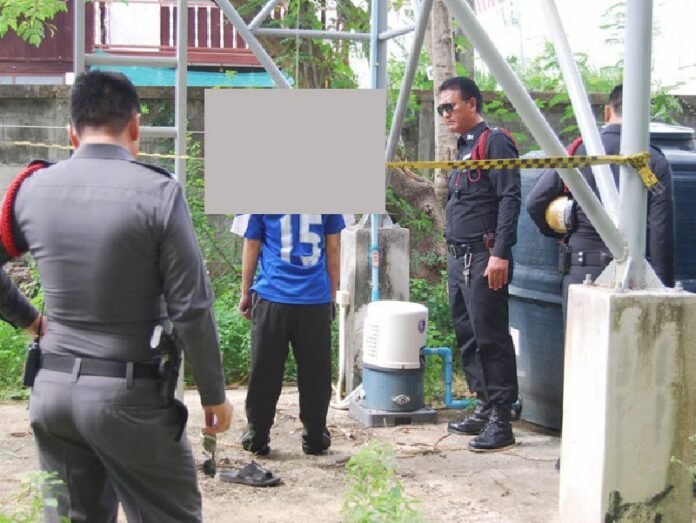 (14 May) Khonkaen police received reports of a man hanging himself in Baannonetun School, behind the administration building. Police arrived at the scene with rescue foundation workers and a medical examiner from Srinakarin hospital, Konkaen University.
On the North part of the Campus, the school had installed many water towers. Under one of those towers, the body of a teenage boy hung from the metal bars.
He was wearing a blue and white sports shirt, sport pants, and his feet were
touching the ground, he shoes lay spawned out on the floor.
A female student discovered the body and informed the school staff,
who called the police. The deceased's motorcycle was left with keys in
the ignition near the restroom; under the seat was an unpaid traffic ticket,
which revealed his identity and was taken in as evidence.
The
police gave his name simply as Mr. Watchara, 18, and said he had been dead
for at least 3 hours.
Later, the deceased's mother came to identify the body and informed investigators that
her son was kicked out of his old school in 8th grade. He continued studying
at Non-formal education for 1 year and then quit and just stayed at home.
Lately, she said, her son had been more reclusive and seemed like he
had some life problems. Before the incident, at 11 AM., his uncle saw him at
home and it was a shock for his family to think that he is now dead.
Mr.Watchara's
body was sent to the forensic department to determine cause of death before
being returned to his family for religious rites.