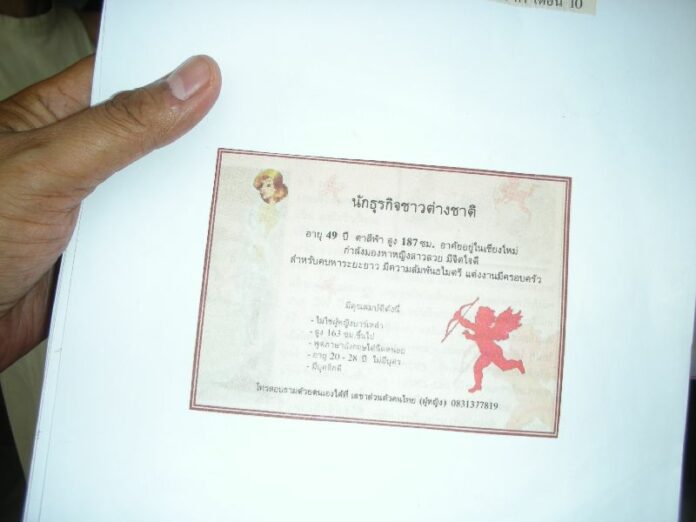 (13 May) A Chiang Mai woman claimed an American raped her after she met him via a blind date.
Mr. Natee Teerojanapoing, secretary of the
Chiang Mai Araya Group (Civilized Chiang Mai),
said in press conference that a Thai woman aged 30 complained to the group about a scam
luring Thai women to be sold to foreigners. He said she
was raped and believes there are other victims of this scam as
well.
Mr.Natee said that the victim is a college graduate and owns a
business. She was looking through the newspaper
and found a personal ad saying that an American man named James Dean Hackner,
49, a business man, is looking for a life partner to help him with his
business and to marry. A phone number belonging to a Thai woman was included
in the ad.
"When the victim contacted, the Thai woman set up a dinner date with Mr.
James Dean, but it turned out the man was 56 years old. Mr. James insured that
victim that he was looking for a life partner and took her back to his
condominium on Huay Kaew road, Chiang Mai, that was
decorated as an office building.", said Mr. Natee, who is known in
Thai public for his traditionalist-conservative
view.
Mr.Natee said
that Mr.James asked the victim to meet him at the condominium again and raped
her. Any attempts by the victim to contact Mr.James afterwards was turned down
and she believes there are more Thai women who had been victims of this scam,
but may be too embarrassed to come forward.
She then went to
Poopingratchanivet police station, but no actions have been taken. That is
when she contacted the Chiang Mai Araya
group.
Mr. Natee added that her appeal is aimed to prevent other prospective victims to this scam, which she believes may be a new form of sex
trade targeting Thai women.