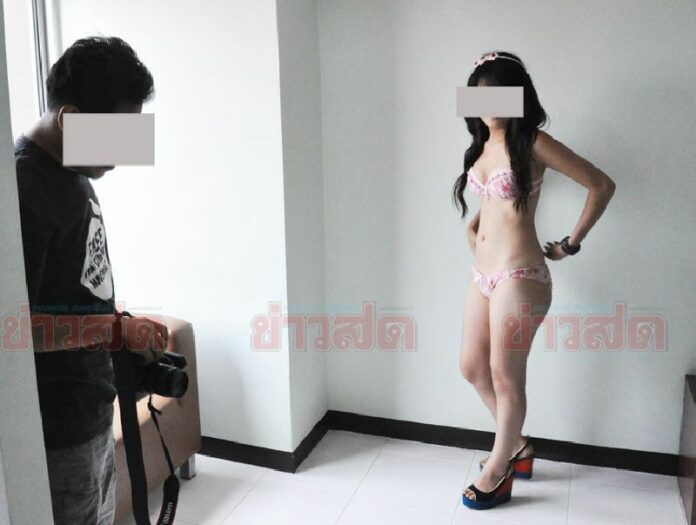 (13 May) Bangkok Metropolitan Police apprehended a nude photography trip participants in an apartment in the city after sending in undercover investigators to pose as a photographer interested in buying the trip.
Police arrested 4 suspects: the trip coordinator, 2 photographers, and a 19 year old female
model, and confiscated a camera which contained more than 300 photos of naked women, some showing
them engaged in sexual intercourse.
The model informed police she used to be "Pretty"
(young girl serving as model or MC for cars and electronics events).
Pol.Col.Npunwoot
Liamsanguan, director for welfare of women and children department, and a team of police officers
brought Mr.Suparak Charoenrak, 30, Mr.Nuttasit Tongpun, 27, Mr.Pokpong Pongsanongkul, 33,
and a
19 year old female model to the press conference announcing their
arrests.

Pol.Col.Npunwoot said the individuals are guilty for profiting by taking
advantage of women and children. The investigative team uncovered that the www.portraittrip.com
website invites users to join in the "trip" to photograph naked women and set
up their trips via a Facebook page.
The morning trip is 10AM.-1PM. And the evening trip is 2
PM. To 5 PM., with 5-6 photographers per trip. The website also provided the cellphone number of the
trip organizer.
Pol.Col.Npunwoot said that 3 officers from the department of women and
children welfare went undercover as photographers on the 10AM. Session on May 13th at an apartment
in Din Dang, Bangkok. They each reportedly paid 1,500 baht to Mr.Suparaak, trip
organizer.
Two other photographers on that session were Mr.Nuttasit and Mr.Pokpong. During
the session, a female model posed for about 100 photos in 1 hour, then got naked. That was when the
undercover officers made the arrest.
The suspects face several charges and the photographers
are currently under questioning in hopes of uncovering the whole organization.
Mr.Suparak
confessed to catering 2-3 trips prior to this one, charging each client 1,200-1,500 baht. The model
said she was starting her first year of college. She revealed that this was her 5th time and she got
paid 4,000-5,000 baht per "trip".