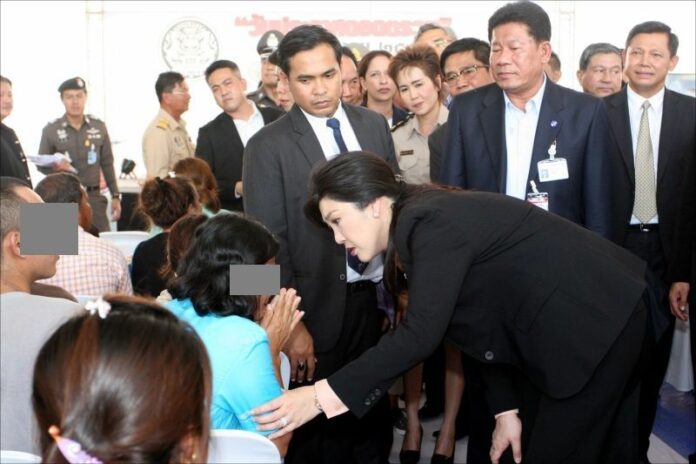 (15 May) Amnesty International (AI) said the Thai government′s decision to unshackle over 500 prisoners at Bangkwang Prison, Nonthaburi, is a long-overdue step that would improve Thailand′s human rights practices.
In a press release, the AI says Thailand should also recognise rights in life and dignity of prisoners by pushing for abolition of death penalty altogether.
Earlier today, PM Yingluck Shinawatra , along with Deputy Prime Minister Captain Chalerm Yoobamrung, Nuttawut Saikua, Deputy Minister of Commerce, and Mr.Korkaew Pikulthong, Pheu Thai partylist MP, presided over a ceremony to unchain the 563 death row inmates at Bangkwang Prison. They were part of pilot programme that would eventually see the unchaining of all 800 death row prisoners.
The program is intended to show that Thai government is focusing on the human rights of inmates.
Pol.Col.Suchat Wongananchai, Department of Corrections, said that the Bangkwang prison is a maximum security prison, where the maximum sentence is death. It is also the only prison in Thailand with death row.
He told our correspondent that the prison has experimented with the removal of the shackles that keep prisoners in chains since 23 January. Prisoners who had their chains removed included 16 prisoners with less than 50 year sentence, 34 prisoners sentenced to life, and 513 death row prisoners, 563 in total.
The result of the experiment include a change in behavior in the inmates and they were able to move around more freely, without chains holding them down, Pol.Col. Suchat said, adding that there will also continue to be unchaining ceremonies at other penitentiaries across the country.
Male inmate Wisut Boonkasaemsun, ex gynecologist at the Chulalongkorn Hospital who was found guilty of murdering his wife, said that today he felt happy for his inmate friends who have been unchained.
He said to be on death row and was chained down for almost 4 years. The physical and mental pain caused by the chains is still alive in his mind even though years have passed. It was a feeling of constant discomfort while he was sitting,sleeping, going to the toilet.
But the pain, he said, was at its greatest in his heart.He said that he felt like he was a hell creature, a non-human. He thinks that all chained inmates feel the same way.
This kindness offered today is easing the torment in hell to some extent, Mr. Wisut said.
It should be noted that although shackles are mostly applied to serious crime prisoners or suspects, those who were charged with lese majeste, such as Mr. Somyot Prueksakasemsuk, are often shackled when they appear before the judges. The practice has caused uproar among civil rights activists who see it as further punishment of ?prisoners of conscience?.