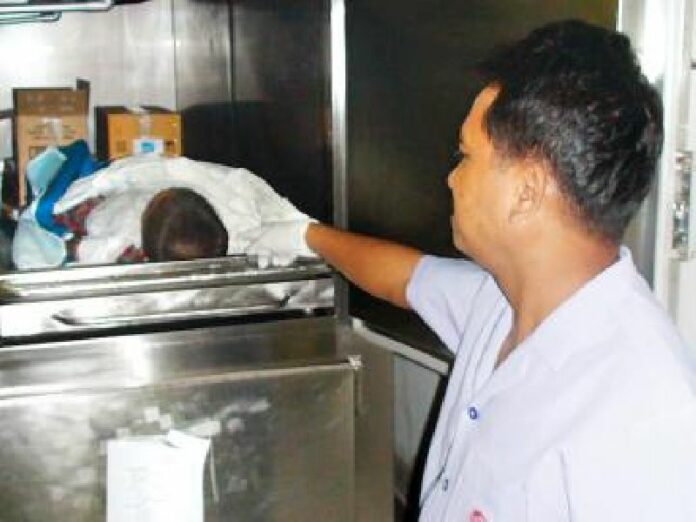 (15 May) The nation is in shock after a kindergarten student in Sisaket province was left in the parking school bus for 7 hours, leading to his death – just a month after a similar case happened in Samut Prakan province.
Today at 15.30 pm police received reports of a boy being locked inside a school bus. The boy was sent to Utumpornpisai hospital, but did not survive.
The victim was identified as Suriyakarn Pagun, nicknamed Potter. He was 3 year old.
After investigating Ms.Tunyatorn Boonma, 27, the victim's mother, it is revealed that the school had picked up her son in a truck to go to school like normal at 07.00 am. The school ?bus? was in fact a converted pickup truck, she added.
Her son was asleep in the small space at the back of the car and nobody noticed he was missing until 15.00 pm. The owner of the car rushed over and discovered Potter who had turned dark green and had torn the buttons off of his shirt. He was rushed to the hospital, but he was already dead.
His body was sent from Utumpornpisai hospital to Sisaket hospital for an autopsy. The owner of the school had contacted Potter's mother and informed her that they are entirely responsible for the incident.
Pol. Col. Bundit Potisarn, director of the Utumpornpisai police station, revealed that the roofed pickup truck belonged to a school teacher, carrying 10 students. Potter was a small child so he was put in the small area behind the driver. When they arrived at the school, the teacher got all the kids off the back and locked the door, forgetting that Potter was asleep in the front portion of the vehicle.
Officers have pressed charges of negligence.
The teacher has not been questioned since she is still in shock, but she has informed the school that she will be responsible for everything. The witnesses have been questioned and the teacher will be summoned for questioning soon.
This shocking accident comes of the heels of another shocking incident on 3 April, where a kindergarten teacher in Samut Prakan province left a little 3 year old girl in the school van for 4 hours. She spent 14 days in the ICU and eventually lost her life. The teacher is now charged and will be prosecuted.