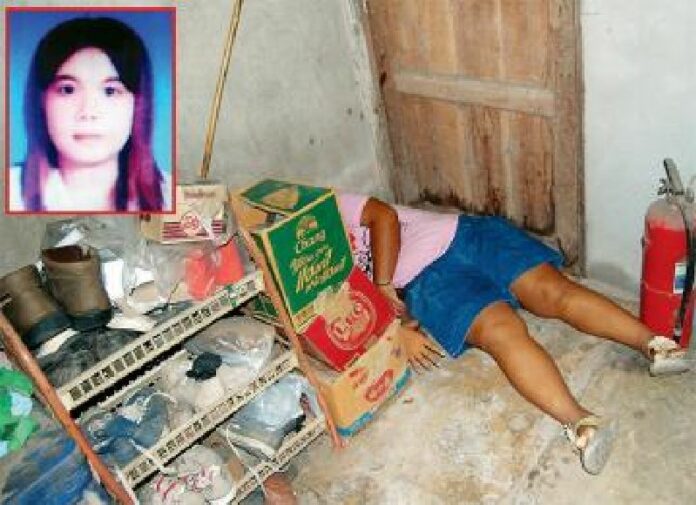 (15 May) Silpakorn student shot herself to death in Nakhon Pathom province after suffering from what her father described as stress related to her courseworks.
Around 11.00 today,
Nakhon Pathom police received reports of a suicide by gunshot at a local
grocery store in Nakhon Pathom. Police arrived at the scene
along with recue foundation workers and doctor on call from Nakhonchaisri
Hospital.
The incident took place in the victim′s , bedroom above the grocery store. She was wearing a pink shirt
and denim shorts, with a bullet wound on her temple, sitting against the wall.
2 bullet shells were found near the
body and the gun was taken in as evidence.
The victim, identified as Ms. Wiral Yimlamaie, 22, was a computer
engineering student at Silpakorn University, Nakhon Pathom.
Ms.
Daongam Yimlamai, 39, mother of the deceased, revealed to the police that
before the incident, she was at the shop and her daughter came down to help like normal, but she looked as if she had something on her mind. She began walking
in circles but Ms. Daongam didn't think anything of it.
Her daughter
then reportedly walked up to the bedroom and she heard 2
gunshots. She was greatly alarmed and ran upstairs to discover her daughter
had committed suicide.
Mr.Somchai Yimlamai, 46, father of the deceased, informed police that
he was not home during the incident since he had driven out to the rice
fields. He received a phone call from his wife informing him of his daughter's
suicide and he hurried home.
He added that his daughter was a third
year engineering student at Silpakorn University. Lately, she had been
complaining about school a lot and informed him that she was feeling stressed
and pressured. He told her it was okay for her to suspend her education and
just come help out at the store.
She had been taking medication to
suppress her stress, Ms. Wiral′s father said..
Mr.Somchai also said
that 2 days before the suicide, his daughter approached him and told him that
she was worried she would disappoint him and her mother, fearing they would be
ashamed if she could not graduate from university. He then started to spend
more time with his daughter because he was getting worried about
her mental state but he never
imagined she could kill herself.
Investigations will take place to determine whether the
suicide was from stress or from side effects of the medication she was taking,
which may have caused hallucination.
She was also on diet pills which
may have caused the stress as well, police added. The
parents will be questioned again to determine the cause of death.