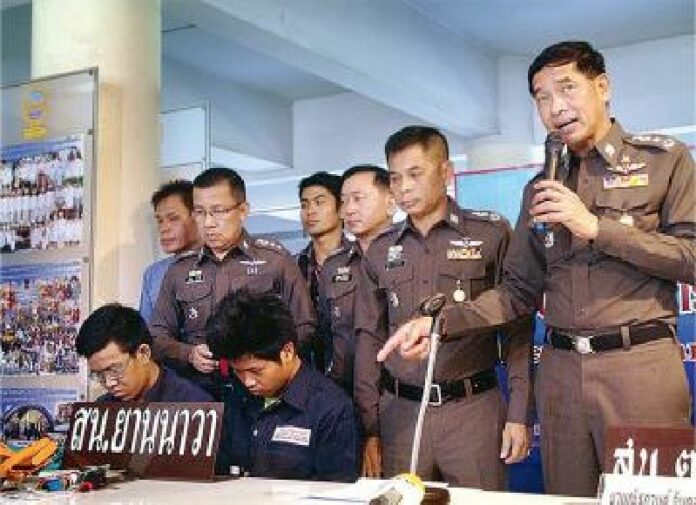 (15 May) Police apprehend 2 muggers that have struck for 20 times near Yanawa police station by dressing as document messengers and grabbing the victims? purses before speeding away on motorcycles.
Police officers of Yanawa police station announced the arrest of Mr.Anycha Puduangjit, 23, and Mr.Somjet Samseenual, 18, along with the confiscation of an unlicensed Yamaha motorcycle, disguise clothing, and stolen property from the muggings. The suspects were apprehended in Silom area.
Pol.Maj.Gen.Wullop said that there were many reported muggings in the area and at noon on May 14th, officers patrolled Silom road and found the 2 suspects dressed as messengers on motorcycles.
After his arrest, Mr.Anucha informed police he used to be a messenger and he asked his brother in law, Mr.Somjet, to help him with the muggings.
Police investigated the security camera footage which revealed that the suspects often struck during the day, choosing office workers as their victims. After their arrest, their house was searched and police uncovered many stolen articles such as cellphones, women's purses, watches, cameras, and other belongings. The goods were divided among them and sold for cash to be spent at their leisure.
The suspects said in press conference that they chose to dress as office messengers to blend in with the surroundings, which is an office building area. They admitted to about 20 muggings in the Yanawa area.
Police said any persons who think they might have been the victims of these men are urged to come to Yanawa police station to identify the suspect. The suspects are initially charged with mugging and receiving stolen goods and now await legal prosecution.