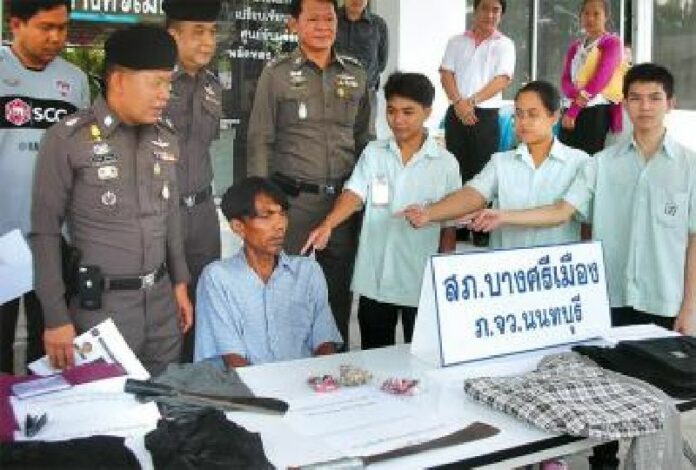 (22 May) Knife-wielding bandit attempted to rob a 7-11 store in Nonthaburi but ran into a well-armed undercover police officer who posed as a store clerk instead.
Mueang Nonthaburi police said in a press conference that the suspect, named simply as Mr. Suwit, is an infamous criminal who had been sowing chaos in the province by stealing cash and cigarettes from many grocery stores.
The police said they had formulated a plan to capture him, choosing a remote 7-11 store. The officer was posing as a 7-11 clerk on the early morning shift when the suspect came in and held a cleaver to the officer's head, but he was quickly overpowered by the officer′s firearms. The suspect was charged for robbery armed with a knife.
Mr. Suwit confessed to 3 cases of robbery. He said he used the money to buy alcohol and spend at his leisure.
The case has drawn much attention from local media in Thailand because of its similarity to many Thai TV soap dramas, in which the protagonist is often a disguised police captain – and the plot conclusion usually involves the much-used phrase "I am an undercover police captain!" (ผมเป็นร้อยตำรวจเอกปลอมตัวมา!).