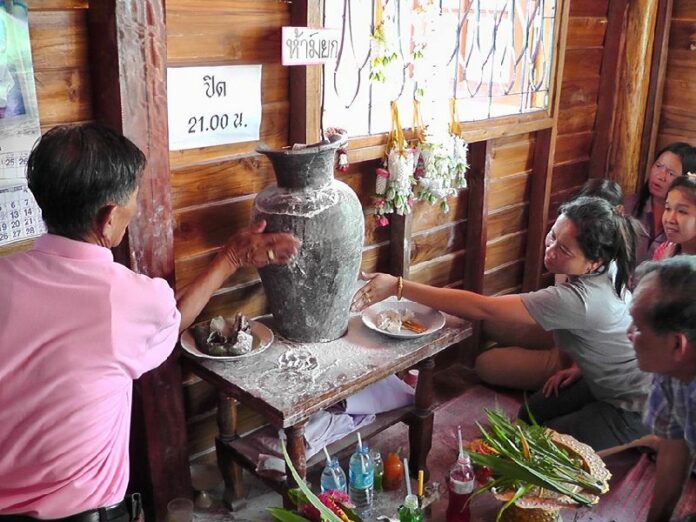 (28 May) As another round
of lottery draws near, lotto number hunters are flocking to worship a vase in Loei province which is
said to be 400 years old.
The vase is enshrined in the monk′s lodging area of Chainam temple.
Our correspondent reported that more than 50 cars are parked in the temple compound, showing license
plates from many parts of the country.
The fame of the vase spreads after some people who
pray to the amphora wins 4 consecutive rounds of lottery. Now, visitors are queuing to place flowers
and incense near the vase to worship it, while some pat the object down intensely, looking for any
clue of lucky lotto numbers.
Mr. Yo Sopradit, 58, a local of Hang Na village, said he was
the first person who discovered the vase. Mr. Yo said that in February, he was working in the fields
about 3 km. away from the village and saw a vase 80 cm high and 50 cm. across, which he assumed must
be very old. He informed the village headman and the vase was brought into the temple.
As news spread of the discovery of the vase, people started to worship the vase for lucky
lottery numbers and it has resulted in 4 consecutive lottery wins for the some of the faithful, Mr.
Yo said. Now people from outside the area travel to worship the vase, causing much traffic to the
temple, with more than 100 visitors per day on some days.
Meanwhile, the lottery vendors
around the temple said that business is doing well. The temple staff said they do not support
gambling and people should worship the vase with awareness.