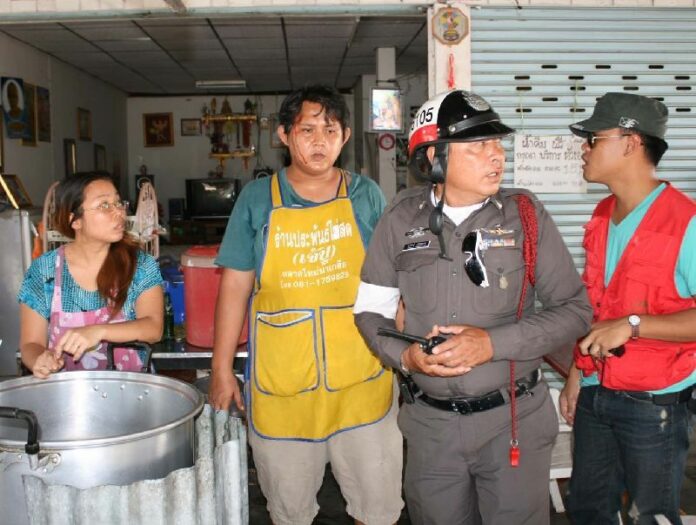 (28 May) A customer
reportedly shot a chicken rice vendor in fury after the vendor refused to give him more chicken
sauce for his dish.

The incident took place at Boss Chicken
Rice store in Banglamung, Chonburi province. Upon arriving at the scene, police found bullet holes
in the gates and pots of the store, while 7 cases of 9 m.m. bullet were scattered on the floor.
Mr. Sakpadung Benjakul, 35, the owner of the dining shop, was waiting for police, with a
slight wound on the left side of his head. He said the incident began when a Thai citizen,
approximately 30 year old, arrived at the store with his girlfriend. After ordering the chicken
rice, the man asked for more chicken sauce, but Mr. Sakpadung refused.
Afterwards, according
to Mr. Sakpadung, he was collecting the empty dishes around the suspect′s table for washing,
but his hand accidentally knocked off the chicken sauce bowl on the suspect′s table, spilling
the rest of the sauce. The man then became angry, Mr. Sakpadung said, thinking the owner
deliberately provoked him.
Fistfights reportedly ensued, but the patron retreated because he
was smaller. The man and his girlfriend sped away on motorcycle, but 5 minutes later he was back in
a black car (Mr. Sakpadung said he could not remember the type and license plate number) and started
shooting into the shop, causing other patrons to flee in terror. Mr. Sakpadung said the man fired 10
rounds in total before driving away.
Mr. Sakpadung said the bullet grazed his skull, leaving
only minor wounds. No other injuries were reported.
Police are searching for the suspect. He
is described as a lean, long-haired man with white T shirt and blue jeans. He was seen driving away
in direction of Banglamung Land Office.