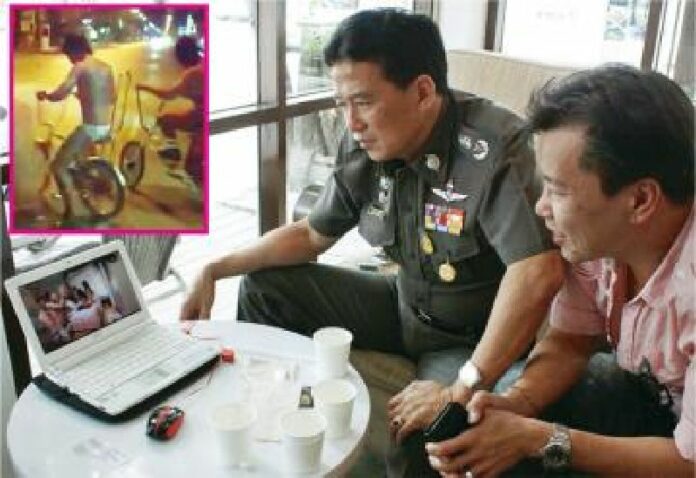 (28 May) The Rock Mode
Gang, who has made headlines in recent days by riding motorbikes naked around Chiang Mai downtown
and posting videos of themselves dancing naked to Harlem Shake, is back in action.
In their
latest stunt, gang members filmed themselves riding on bicycles in their skimpy underwear along
Nimmanhemin Road in Chiang Mai and uploaded the video clip on the internet. Some of them members
could also be seen urinating on a car.
Chiang
Mai police said they will summon the gang members for questioning and drug testing. The police also
hope the gang would be prosecuted for their previous nude videos.
Pol.Maj.Gen. Chamnarn said
that the video of the gang members dancing naked to Harlem Shake was taken in a hotel in Pattaya,
and the other videos were filmed in Chiang Mai.
Although the videos stem from reckless
action, he said, they are punishable by the Computer Crime Act of 2007.
The uploader of all
the videos have been identified by the police as Mr.Yongyoot Saenpun, 24, a native of Chiang Mai,
who is now working in Hong Kong and Macau. However, police said Mr. Yongyoot has contacted them and
said he would turn himself in very soon. Police are urging other gang members to surrender and
remove the clips from the internet.
Mr.Natee Teerarojanapong, secretary of the conservative
Chiang Mai Araya (Civilized Chiang Mai) Group, said that the group has encouraged the police to stop
these teenagers from doing inappropriate things that is sure to defame Chiangmai on the online
community, causing harm to centuries of tradition and culture.
It needs to be stopped
before copycats emerge, Mr. Natee said.