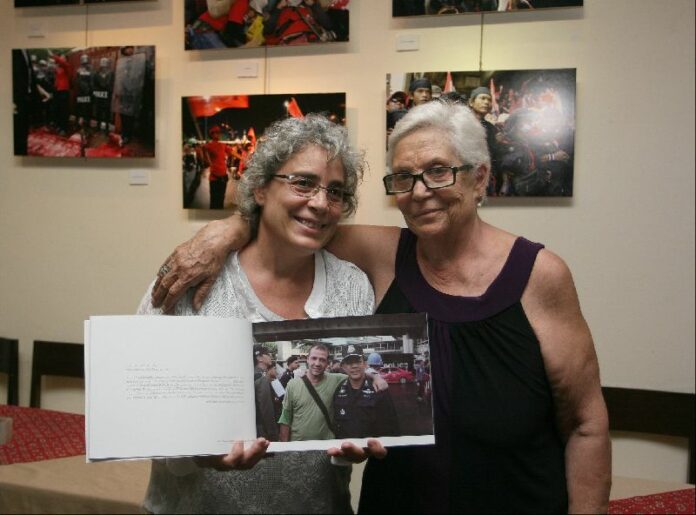 (29 May) Sister of the
Italian photographer Fabio Polenghi, who was killed during military crackdown in Bangkok on 19 May
2010, expressed her opposition to any bill that will grant amnesty to those responsible of the
military operation which resulted in her brother′s death.
Speaking in the press
conference at Foreign Correspondent Club of Thailand (FCCT) in downtown Bangkok after the court
inquest ruled that Fabio was killed by bullet fired from the military′s direction, Ms.
Elizabeth Polenghi said she′s aware there are 2 separate drafts of Reconciliation Act being
considered by the Pheu Thai Party leadership.
She said she′s very concerned about the
one proposed by Vice PM Chalerm Yoobamrung which would grant amnesty to all those involved in
political cases from 2006 to 2010 including former PM Abhisit Vejjajeeva, who had been charged with
murders for his role in ordering crackdown against the Redshirts; the military would also benefit
from the amnesty.
She pleads to the Pheu Thai MPs not to vote for the bill. Please place
your hand over heart before you vote for this bill, and think of the children, of the families of
those who lost their lives, she said, insisting that absolving the authorities of their
responsibility would destroy every effort she and other families of the victims had been putting
into their quest for justice in the last 3 years.
She said such a blanket amnesty might work
in the future, when those responsible had been trialed, removed from their position, and punished.
After the trials have been concluded, she said, the society may consider amnesty for these figures
as means of forgiveness.
But not now, Ms. Polenghi said firmly.
However, Ms.
Polenghi said she would agree with amnesty bill that helped political prisoners who were jailed for
their roles in the 2010 protests.
Seated next to Fabio′s sister at the evening panel
was Mr. Shawn Crispin, representative of Committee to Protect Journalists (CPJ). Like Ms. Polenghi,
Mr. Crispin said he vehemently opposed Mr. Chalerm′s draft for amnesty bill, stressing that
Thailand should not resort to its cycle of impunity.
Mr. Crispin said that while there is
no precedent of prosecution of any soldier of politician in Thailand for their role in engineering
political violence, he hoped Fabio′s inquest would be the first step toward
justice.
Ms. Polenghi added that she had been contacted by Mr. Abhisit via a mutual friend,
asking if he could meet her. She said she preferred to meet Mr. Abhisit in public forum, so she sent
him invitation to attend the press conference with her, which he declined, citing busy
schedule.
I regret that he is not here today. He had freedom of expression to tell his side
of story, Ms. Polenghi said. She expressed her hope that she and Mr. Abhisit could chair an
event together in the future so the public can benefit from their
discussions.