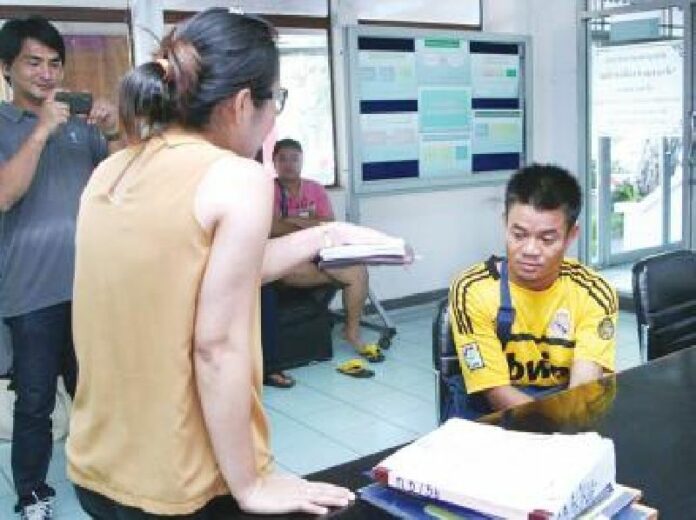 (29 May) Police say they have
arrested a man who masturbated and ejaculated on a woman in the crowded Skytrain during the rush
hour.
Ms. A (real name undisclosed) said she was taking the BTS to work from Siam
station on 08.00 of 27 May, and a stranger with a bag was standing her from behind in the train. She
said that as the train approached Rajdumri station, she felt some liquid on her leg. She thought it
was spilled soup or curry from someone′s food bags, and she was horrified to realize it was in fact
human sperm.
She said the stranger left as soon as he noticed she had realized what
happened. Ms. A said she was too confused to do anything, so the culprit got away. After wiping away
the sperm with tissue paper given to her by fellow passengers, Ms. A reported the incident to the
Skytrain officials.
Security footage investigation was studied, and the stranger was
identified as Mr. Sang Kattiya, 36, a native of Payao province. BTS security guards apprehended him
today at Siam BTS Station as he attempted to board a train. Ms. A was contacted and she hurried to
the station to identify the suspect. Police later arrived and arrested Mr. Sang.
Mr. Sang
told police he worked as a messenger for construction site managers, currently staying in Bangkok′s
Bearing area. He said he uses BTS to commute to work daily. On the day of the incident, he said he
spotted Ms. A at Siam station and, unable to contain his lust, masturbated to her while he covered
himself with his bag.
Police charged Mr. Sang with indecent exposure. If found guilty, he
faced maximum penalty of 1,000 baht in fine and 1 month in prison.