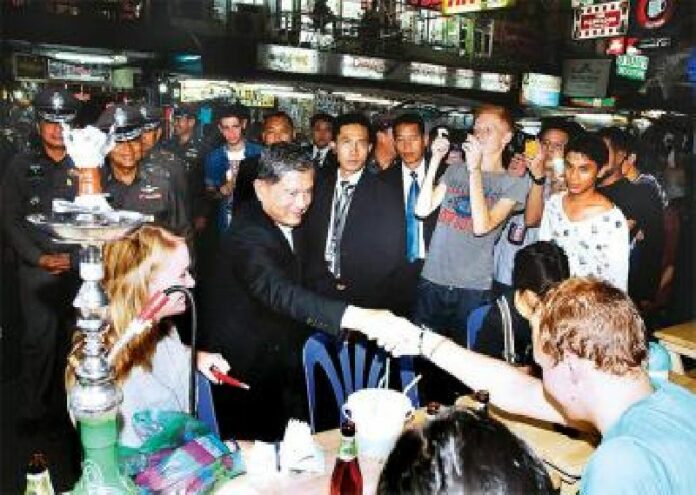 (30 May) Vice PM Chalerm
Yoobamrung visited Khaosarn Road in a bid to assure foreign tourists that all is well in Bangkok
after a bomb exploded on a crowded street in Ramkhamhaeng area, injuring 6 people.
Pol.Capt.
Chalerm and his entourage toured the Khaosarn Road around 21.00 for safety measures inspection.
There, the Vice Prime Minister talked with some tourists, telling them that an ongoing rumor about
another bomb attack is absolutely false. The rumor, he said, was fabricated by malevolent
individuals to discredit the government.
The said rumor claimed that another wave of bomb
attacks in some of Bangkok shopping malls are imminent. The rumor was fanned widely by anxious
netizens on social network sites like Facebook and Twitter.
The Bangkok Metropolitan Police
confirmed the rumor was false. They said no official warning of any kind has been issued, and
police officers have been monitoring the situation very closely.
Pol.Maj.Gen. Adul
Narongsak, vice commander of the Metropolitan Police said Facebook messages are not very reliable,
and citizens should instead look for official warning from the police force as means of keeping up
with situations.
He added that the persons who shared the rumor on the social media should
stop immediately because it is causing chaos in the city. He noted that spreading false information
is punishable by law in the Computer Crime Act 2007, which is a five years imprisonment sentence or
a fine not exceeding 100,000 baht or both.
Meanwhile, Pol.Col.Pratchaaya Prasarnsook said
that evidence had been gathered on the spread of the this rumor, but the police had not come to a
conclusion yet, fearing that legal prosecution would create further panic among the
citizens.