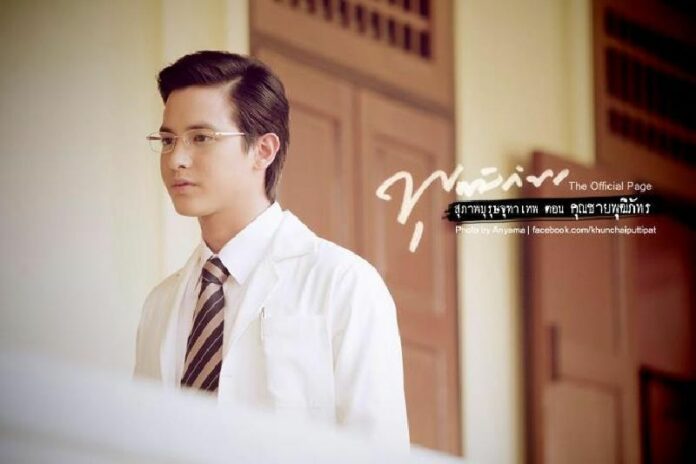 (3 June) Many Thais feel that the gentlemanly and egalitarian values featured in
TV drama ?The Chutathep Gentlemen? should be practiced more often in real world,
according to an opinion survey.
The survey was conducted by Assumption
University (Abac Poll) and asked 1,985 individuals in 17 provinces about their opinions on the
popular TV drama, which is shown nightly on Channel 3.
Based on the novel with same
name, ?The Chutathep Gentlemen? revolves around love encounters of the 5 sons in the
(fictional) royal-related Chutathep family. The story is understood to take place in the years
following the 1932 Revolution which abolished the Siamese Absolute Monarchy.
The TV production of the novel is heavily laced with ?period? and even
nostalgic themes, and some unsuspecting viewers might be surprised to learn that
?Gentlemen? was published only few years ago.
Of the 5
characters, Khun Chai (title denoting royal blood) Phuttipat, who worked as a doctor in the
drama, seems to be the most popular so far – and is also the focal point of the Abac Poll
survey.
Mr. Noppadol Kannika, director of Abac Poll, revealed the survey result
in the press conference titled ?Watching Drama, Watching Thai Society?. 62.2% of the
respondents say they know about Khun Chai Phuttipat, while 37.8% say they never heard of
him.
Of those who responded they know about the character, 96.3% express their wish
that Thai society needs more gentlemanly behaviors like the examples laid out by Khun Chai
Phuttipat.
The drama′s main plot involved Mr. Phuttipat
falling in love with a common-born woman called Krongkaew who later became the winner in national
beauty contest and was reviled by Mr. Phuttipat′s noble-born family. In defiance of his
family′s prejudice, Mr. Phuttipat eloped with his girlfriend. There is also a subplot about
Mr. Phuttipat protecting Krongkaew from a powerful politician who pressured her to become his
mistress.

The plot
eventually resolved in happy ending, with Khun Chai marrying his love.

Asked about what they like about Khun Chai Phuttipat, 84.1% say they are
impressed by his politeness and egalitarian spirit. 73.9% cited his role as a doctor who worked hard
to help impoverished patients. Others say they admire his bravery, his refusal to bow to influences,
and his committed love to Krongkaew.
Vast majority of the respondents also say they
wish Thai men would behave noblely like Khun Chai Phuttipat. However, 76.7% say they have never
experienced ?gentlemanly behavior? from Thai men.
Mr. Noppadol, the
director of Abac Poll, said it′s interesting to see that 91.8% want TV stations to produce
more dramas that feature such gentlemanly spirit, while 88.2% say they are tired with the mainstream
TV dramas that display a lot of violence like slapping and fighting among the
characters.
Previously, TV drama producers like to think that drama about jealous
fights and affairs are always sell-able\, Mr. Noppadol said, noting that this survey confirms
those soap dramas aren?t what society truly wants to see.