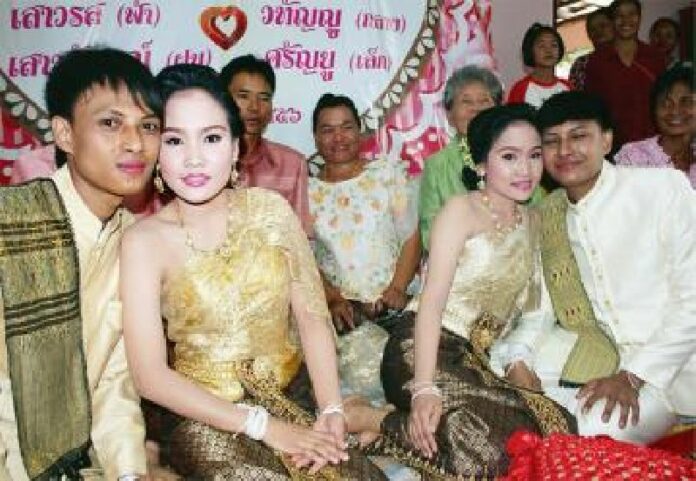 (2 June) Twin brothers
married their sweethearts – who happened to be twin sisters – today in Kalasin province.
The
wedding ceremony kicked off around 09.00 when the grooms, 23 year old Mr. Watanyu and Mr. Saranyu
Kampriew, led the traditional, rowdy kan mak procession to the brides? house in Kok Krue
village, Yanglard district, to formally ask the brides? parents for the hands of their daughters in
the marriage.
The brides, 23 year old Ms. Saowalos and Ms. Saowalak Prisri, waited with their
parents, who gave them the permission to marry the grooms. The grooms also present their soon-to-be
parents-in-laws with dowry which consists of 370,000 baht in cash and around 1.5 ounces of
gold.
Mr. Watanyu and Mr. Saranyu, who go by their nicknames Klang (middle) and Lek (small),
respectively, told our correspondent that they met Ms. Saowalos and Ms. Saowalak, nicknamed Fah
(sky) and Fon (rain), during their college years. They said Mr. Watanyu started dating Ms. Saowalos
first, then Mr. Saranyu and Ms. Saowalak became attracted to each other later, too.
Both
couples have dated for 6 years before agreeing to marry, and have decided to marry on the same day
as well.
Ms. Saowalos and Ms. Saowalak said that they have their ways of knowing which
person is their boyfriend, assuring our correspondent that there would be no confusion after the
wedding. They said they had dated for 6 years, so they had developed echniques to identify Mr.
Watanyu and Mr Saranyu. They did not say what those methods are.
Mr. Nipon Prisri, father of
the twin brides, said that he believed having twins in his family brings good luck. He said that
even since his daughters were born his farm had seen much success. He expressed his hope that both
couples would also bear twin children.