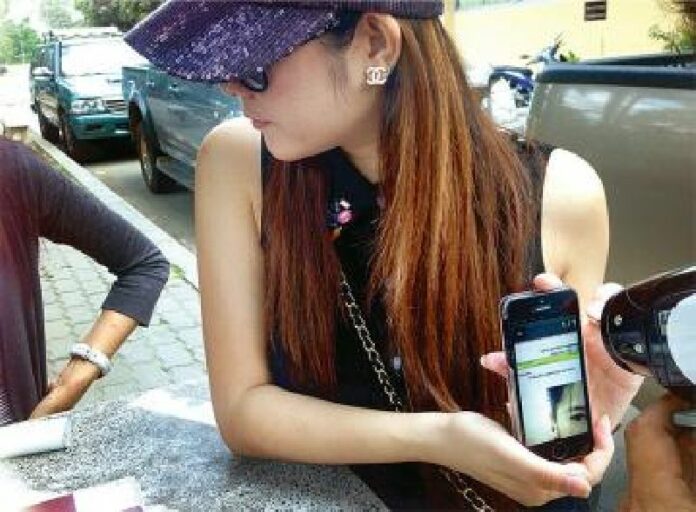 (4 June) A woman reported
to Chuangpuak police station in Chiang Mai province that she was a victim of identity theft which
used her photos in advertisement for online prostitution service.

Ms.Noongning (alias), 25, was described to be a sister to a famous TV news
reporter in Chiang Mai province. She informed police that her photos on her personal Facebook account has been used
on a prostitution website, with her telephone number attached and has caused damages to herself and
her family.
Her sister brought her in to press charges at the police station at 10.00. They
handed the photos and the telephone number on the website
as evidence for the case to Pol.Lt.Col. Intarat
Saenpunya, investigative officer at Changpuak police station. The police questioned Ms.Noongning for
2 hours.
Speaking to reporters, Ms.Noongning said she used to work at a beauty
salon, and is now currently unemployed. She said her images have been used on online dating sites,
inviting men to call her for prostitution service.
Ms. Noongning said she received hundreds
of calls on her phone, so much so that she had to turn it off and inform her sister, who is a TV
channel reporter. Her sister then took her to the police station to press
charges.
Ms.Noongning revealed that she has also contacted Google to delete the photos from
the database. She added that she did not give out her phone number on Facebook and does not know
where the culprit got her number.
She said that the photos on the website have been
retouched and she implored police to capture the culprit to set an example and prevent other women
from getting harmed in this way. She added that he has an ex-boyfriend but does not believe that he
is the suspect, since the breakup was amicable.
She also ruled out her ex-coworkers since
they would not play such jokes on her.