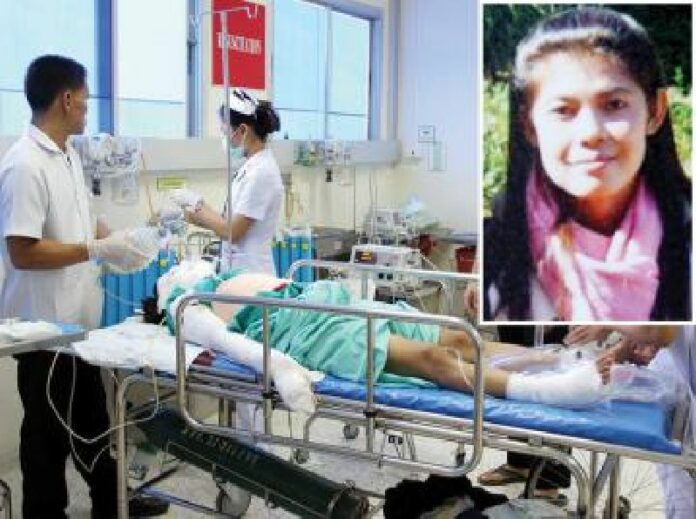 (3 June) A man dowsed his wife
with gasoline and set her on fire in Songkhla province today, reportedly because he feared she was
cheating on him.
Police received report about the incident around 08.00 today. Ms. Chutima
Tongkrai, 37, was admitted to Buengkarn Hospital with severe burns throughout her body, from her
face down to her waist, while her arms and legs were also burned. Doctors at the hospital said she
suffered 60% burn of her body and is now monitored closely in the ICU.
Later, her husband,
Mr. Jirawat Kaewsuk, 53, arrived
at the hospital to treat his burned wounds, and the police apprehended him. Mr. Jirawat told police
at the police station that he had been married to Ms. Chutima for 12 years. They had 2 children
together, one aged 6 and the other aged 1.
Mr. Jirawat said in the past year they had argued
with each other a lot. 10 days ago, he said, they had big fights and Ms. Chutima left him. Mr.
Jirawat said he eventually caught up with her at her relative′s house but she refused to go back to
him. Ms. Chutima also reportedly asked Mr. Jirawat for a divorce.
The suspect told police
that Ms. Chutima′s relative whispered to him that his wife already found a new man, so he confronted
Ms. Chutima about this. She reportedly confirmed the news, enraging Mr. Jirawat, who left the house
to buy a bottle of gasoline and came back to the house with the intention to burn her face so she
would become ugly.
However, Mr. Jirawat continued in his confession, Ms. Chutima ran around
the house, escaping from him, so he dowsed her body with the gasoline and ignite it with his
lighter. The incident happened in front of Ms. Chutima′s family members who attempted to stop the
attack but failed. Mr. Jirawat was also burned in his leg, caused by Ms. Chutima′s struggle against
him as he set her aflame.
The police charged Mr. Jirawat with attempted murder.