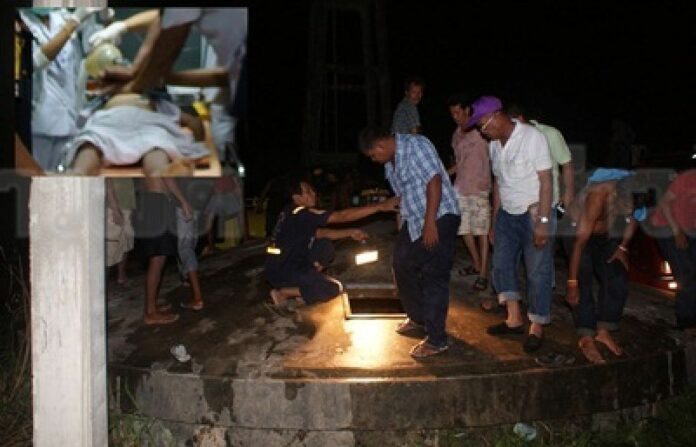 (4 June) Around 07.00
today officer of duty at Lamae police station received reports of a child falling into the water
tank at Lamae Muangmai market, Chumpon province.
Rescue workers and police officers rushed
to the scene to find many locals gathering around the water tank behind the market, which is the
water supply for the village. The tank is 5 meters deeps and has a 4 meter diameter. The top of the
tank was intact, but the door at the side of the tank was opened.
Officers and rescue workers
tried to rescue the child in the water tank, sucking out all the water with a fire hose and going in
with diving equipment to search for the child. After 30 minutes, rescue workers found the no longer
breathing body of Nong (little brother) Golf and send him to the hospital, but they were too
late.
Nong Kae (alias), 6, Nong Golf's friend, said that they were playing near the tank,
waiting for their parents to finish selling friend chicken in the market. Nong Golf dared him to
climb to the top of the water tower, but he refused to. Nong Golf went up and looked into the
opening at the side of the tank and fell in. The boy ran into the market and called for help but
help did not arrive in time.
Nong Golf is the youngest son of Ms.Suthep, 46, a Chumporn local
who sells fried chicken in that market. He was a kindergarten year 2 student and was a smart and
curious boy. The water tank opening had a slot for a key, but no locks were placed there and there
were no measures to deter children from getting to the top of the tank.
Police are now
investigating for the parties responsible for the unlocked opening at the side of the water tank.