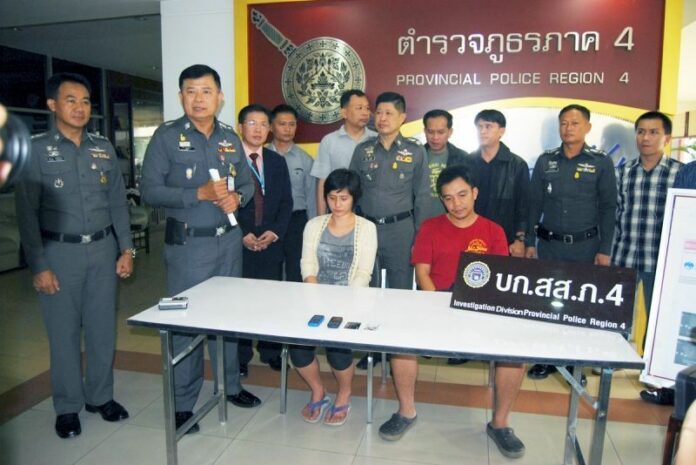 (5 June) Police arrested
2 suspects who are accused of stealing over 10 million baht from Krung Thai Bank in Nakornpanom
province.
The suspects were identified as Ms. Jutamas Suwanbumroong, 28, a master degree
graduate who was awarded Best Employee of the Month by the bank in 2010, and her boyfriend
Mr.Supachet Chanachai, 31, a bureaucrat in Ministry of Education.
Their alleged crimes dated
back to 21 Jan this year when manager of Krungthai Bank′sNakornpanom branch reported to investigative officers
at Muang Nakornpanom police station that 8,926,200 baht was missing from 3 ATMs. The keys to the
machine were reportedly held by Ms.Jutamas,who works as a teller at the bank.
She
disappeared along with the keys and codes to the machines on Jan 22, and has become a prime suspect.
Investigations revealed she had also transferred 1.7 million baht from a customer account to
Mr.Supachet's account. Both of them escaped together.
The suspects reportedly escaped
to Bangkok and were apprehended at Imperial World shopping mall in Bangkok suburb. The 2 suspects
confessed to the crimes.
Questioning revealed that the reason for their robbery of over 10
million baht is Mr.Supachet's gambling debts. He had been threatened for his life and he had to find
a way to get the money to pay his debtors. His girlfriend then helped him to rob the bank from the
inside. They used 8 million baht to pay off the debt and the remaining amount in their
escape.
Police said that Ms.Jutamas was a well-mannered person from a well of family, with no
debts. Mr.Supachet had always been in debt, although he worked as the Ministry of Education
official. Police believe Mr.Supachet convinced Ms.Jutamas to commit the crime to save him from his
gambling debts.
After the press conference, Ms.Juramas and Mr.Supachet was detained and sent
to investigative officers at Muang Nakornpanom police station and will be lawfully prosecuted on
charges of night time robbery with two or more persons and burglary of an employer, to which both
pleaded guilty.