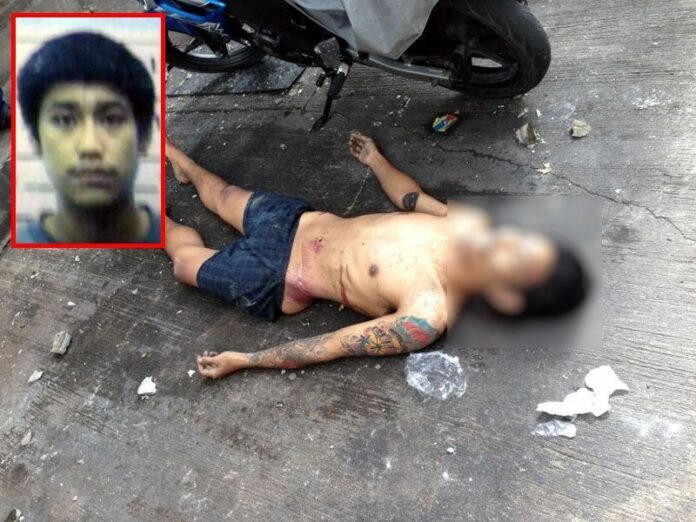 (7 June) At 07.00 today
Prakanong police station received reports of a man falling off the Niran Radison Condominium in
Bangkok′s Onnuch area.
At the scene, the police found the body of Mr. Chayut Chayanun,
27, lying in a pool of blood, shirtless and wearing blue boxers.
Deducing that Mr. Chayut
fell down from room 96/212 on the 9th floor of the building, police inspected the room, and ran into
Mr.Nusat Namtip, 24, Mr.Nakaret Kumchot, 20, and a 19 year old man, who are all friends of the
deceased, all smoking marijuana when police arrived. They were all detained.
The police also
discovered that the room next door, 96/211, was ransacked, with scattered things everywhere. The
room belonged to Mr. Chaianan Sanpun, 40.
Mr.Chaianan informed police that before the
incident, he went out to the building nearby, and he saw Mr. Chayut climbing out of the window of
his room. He came back into the room and saw that his belongings were ransacked and the man had
already climbed back to his room next door via the window.
However, for some reason, the man
climbed back into the window, and when he saw Mr.Chaianan, he reportedly panicked and fell to the
ground. Some of the belongings in the room were missing, all of which the police found in
Mr.Chaiyut's room.
Mr.Nusat, friend of Mr. Chayut, informed police that the deceased was
staying with him and that he was the son of an architect who did not want to live at home and wanted
to sell clothing at a second hand market at Suan Rot Fai Mai.
The deceased reportedly took
some drugs and had a hallucination. He told Mr.Nusat that he would be out for a while to run
errands, and the next thing he knew, his friend was dead. Police have contacted the family of the
deceased for further questioning and has detained his 3 friends on charges of drug
abuse.