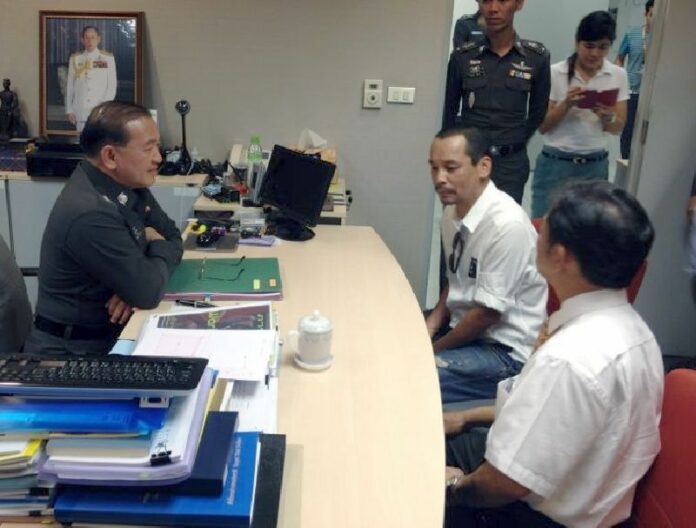 (10 June) A famous
comedian who was accused by anti-government online groups of parodying His Majesty the King lodged
complaint to computer crime police today, and pleaded that he be left alone.

The case of Teng Terd Terng, whose real name is Pongsak
Pongsuwan, 47, escalated quickly after he appeared at

a birthday party ofa prominent Redshirt leader
, who′s also a Pheu Thai Party MP. There, onstage,
he told the audience that he wished Former PM Thaksin Shinawatra would come back quickly to
Thailand.
Mr. Thaksin was ousted in military coup in 2006 and had been spending most of his
time abroad to escape from corruption charges, which he insisted are politically motivated.
Nonetheless, his political base remained strong. His sister Ms. Yingluck Shinawatra is now the Prime
Minister.
The former prime minister is a deeply divisive figure: his supporters the
Redshirts see him as symbol of electoral democracy while his critics the Yellowshirts say he is a
corrupt tyrant who sought to overthrow the monarchy.
After the news of Mr. Pongsak′s words
surfaced, anti-government groups on social network disseminated a screenshot of his comedy TV show,
in which he sat on what appeared to be wheelchair holding a camera, and accused
him of making funof His Majesty the King who sometimes appeared on wheelchair with his
camera.
Insulting or criticizing the monarchy is extremely serious crime in Thailand, and can
be punished with up to 15 years in jail.
Today, Mr. Pongsak brought his lawyer to meet with
the computer crime police at their headquarters on Chaeng Watana Road, and filed complaint about the
matter.
Speaking to reporters, Mr. Pongsak said he lodged the complaint today to show his
innocence, insisting that he loves the monarchy and would like to beg those who accuse him of
insulting His Majesty the King to stop their action.
Please stop. I?m a working man. I just
want to [stay in business and] have works in the future. Nowadays I can?t even sleep or eat, he
told reporters.
Pol.Maj.Gen. Pisit Pao-in said that although Mr. Pongsak did not want to
press charge against anyone, his unit will investigate and find those responsible for disseminating
the accusation. He said legal procedure might be brought against these people, but did not give
details about specific laws.
They use the beloved institution to bully others. This is not
right. We will take this matter very seriously, Pol.Maj.Gen. Pisit said.
Meanwhile, Mr.
Panthongtae Shinawatra, the son of Mr. Thaksin, wrote on his Facebook that Redshirts should give
moral support to Mr. Pongsak. He said he praised Mr. Pongsak for showing his Red spirit and
suggested that his supporters adopt a mask with the face of Mr. Pongsak to counter the Guy Fawkes
Mask wearing anti-government protesters.