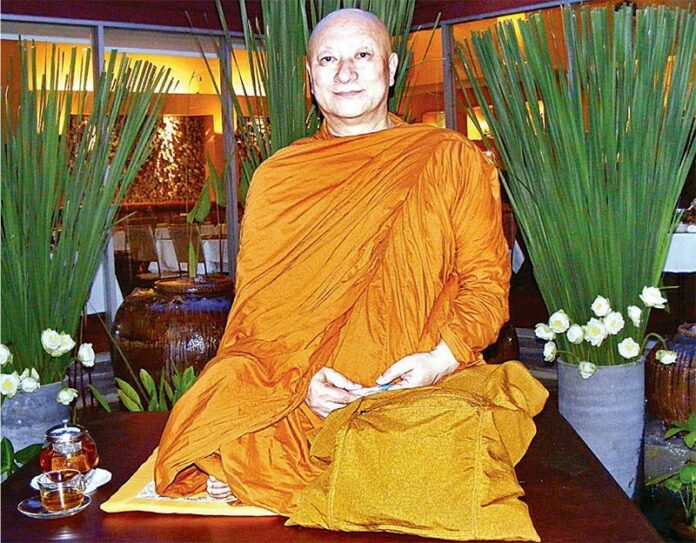 (11 June) The Buddhist
community in Thailand is still reeling from shock today after reports emerged that Phra
(monk) Mitsuo Gavesako, the popular Japan-born monk who has been living in Thailand for more than 30
years, has resigned from monkhood and returned to his home-country.
Rumor about Phra
Mitsuo′s resignation and return to Japan surfaced throughout yesterday (10 June) and was later
confirmed by various Buddhist officials, including the senior staff at Sunandhavanaram
monastery in Kanchanaburi province where he had overseen as its abbot for many years.
The
news came as a shock to his numerous followers, many of them middle class urbanites. Phra Mitsuo,
whose pre-ordaination name is Mr. Mitsuo Shibahashi, was well-known for his emphasis on
meditation, his preaching about calm mind, and the charity works at the foundation he helped
established, Maya Gotami Foundation.
His reputation was even more cemented by the fact that
he was ordained by the famous Luang Por (elder monk) Cha Suphatto of Nong Pa Pong temple,
Ubon Ratchathani province.
Maya Gotami Foundation has released statement saying that Phra
Mitsuo has undergone defrocking ceremony at Chanasongkram temple in Bangkok on 8 June and had since
returned to Japan. The statement cited health problems such as diabetes and high cholesterol level
for his resignation.
He needs rest and the doctors need to tend to him for very long
period, the statement says.
Mr. Nopparat Benchawattananan, director of National Buddism
Office, said that he was shocked by Phra Mitsuo′s resignation and regretted it because Phra Matsuo
had done great service to Buddhism, bringing many Thais and foreigners to the
faith.
Nonetheless, many of his followers remain skeptical of Phra Mitsuo′s real motive
due to the sudden and secretive nature of his resignation. Some wonder whether a darker reason is
involved.
Meanwhile, vice abbot of Sunandhavanaram monastery, denied rumor
that Phra Mitsuo had resigned to escape from financial dispute in the
temple.
As for latest development, a nun in Sunandhavanaram
monastery has revealed to our correspondent that Phra Mitsuo has phoned a volunteer
worker in the monastery and told her that he planned to set up meditation courses for Japanese and
Thais in Japan around September. According to the nun, Phra Mitsuo will tour the cities of Kumamoto,
Okinawa, and Nagoya that month.
However, she did not reveal the city that Phra Mitsuo is
currently staying, and said that he had not discussed his reasons to leave Thailand during the
telephone conversation.