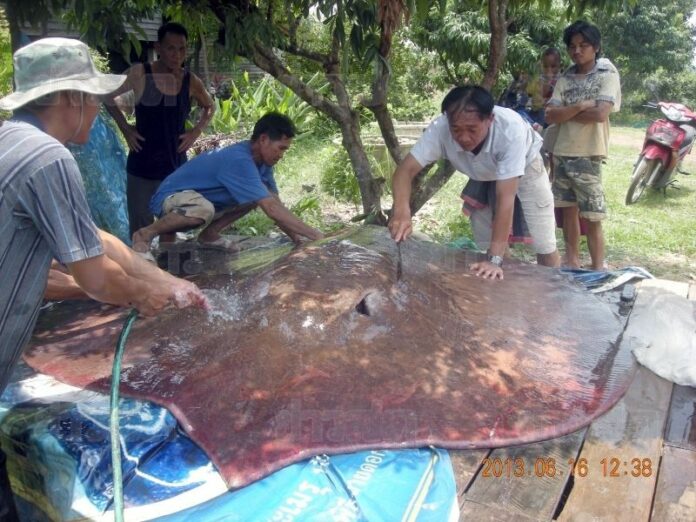 (17 June)
A giant stingray which weighs more than 200 kg. was fished out from Mekong River and hacked to
pieces by locals in Nakhorn Phanom who believed that eating its body would bring good
luck.
The 3-meter wide stingray was found in Muang district of the province by Mr. Chairat
Sopa, 40. Mr. Chairat said he and his friends were fishing with nets in Mekong River when he
stumbled upon the giant creature. News of its discovery attracts many locals who quickly arrived at
the scene. Many said that such a big stingray has not been found in their district for 50
years.
The discovery was short-lived however, as the locals took turns to hack off its meat.
The locals said it is considered lucky to eat such a rare fish. Some said they intended to sell the
meat for 100 baht per kg.
Mr. Prachak Charoenrat, official of Nakhon Phanom Fishing
Authorities, said these freshwater stingrays usually live in very deep water, so not many people
have seen them. He suggested that the stingrays were migrating due to change in the river level, so
one of them might have strayed off and got caught by local fishermen.
Nevertheless, Mr.
Prachak said the Fishing Authorities will inform the citizens not to fish these marine lives because
it is currently their breeding seasons. He warned that the giant stingrays might disappear from
Mekong River if local fishermen constantly seek them out for food.
As for people who have
caught such stingrays, Mr. Prachak said they could contact the Authorities, which will hand out
compensation money in exchange for the creatures to be conserved.