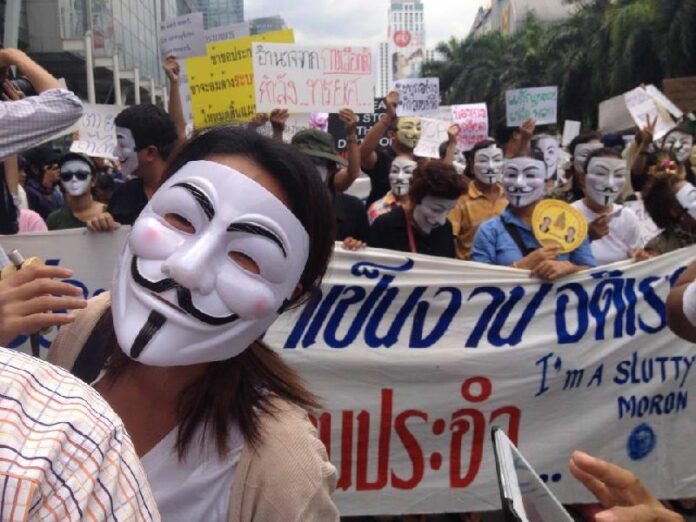 (20 June) Chairwoman of
the Redshirts main organization dismissed new wave of anti-government protests as the same group of
people in different disguise, but warned Redshirts that they should not be taken lightly
neither.
Ms. Thida Tojirakarn, chairwoman of the National United Front of Democracy Against
Dictatorship (UDD) was speaking at the weekly press conference held at Imperial World shopping mall
in Bangkok′s Ladprao district.
She criticized the the anti-government protesters, who have
adopted Guy Fawkes masks as their symbol, and the so-called former Communist fighters that marched
down Sanam Luang recently asking for a new Prime Minister to be appointed directly by His Majesty
the King.
She said that despite their new symbols and methods, the groups are in fact same,
old people who have been unceasingly campaigning against the legacy of Former PM Thaksin Shinawatra,
whose sister Ms. Yingluck Shinawatra is the current Prime Minister.
Nevertheless, the UDD
chairwoman said the Redshirts should remain vigilant of their activities.
We may deride
their strategy, but we cannot underestimate their tactics, Ms. Thida was quoted as
saying.
She turned to attention to the Redshirts activities, which recently hit headlines for
their visible aggressiveness, like storming the White Masks rally in Chiang Mai province and
disrupting the opposition party′s rally in Lamphun province.
Ms. Thida urged the Redshirts
to conduct regular meetings with their local UDD chapters in order to catch up with timely analysis
of current situations. She stressed that the Redshirts should not resort to their emotion when they
respond to the White Masks.
As for the procedure of handing out compensation money for the
Redshirts who were imprisoned longer than the court′s judgment and those who were kept in prison
long after their cases were dismissed, Ms. Thida said total compensation fund would stand at
19,700,000 baht and would be dispatched to 77 Redshirts.
Rest assured that the UDD is not
abandoning you. Please understand that the legal procedure takes a long time. It can?t be done all
of sudden, Ms. Thida said.
Our correspondent added that there has been rumor that Imperial
World shopping mall might lose its electricity service soon because the mall′s electric bill has
been long overdue. There has been no official statements from the UDD or the Electric Authorities
about the matter yet, however.