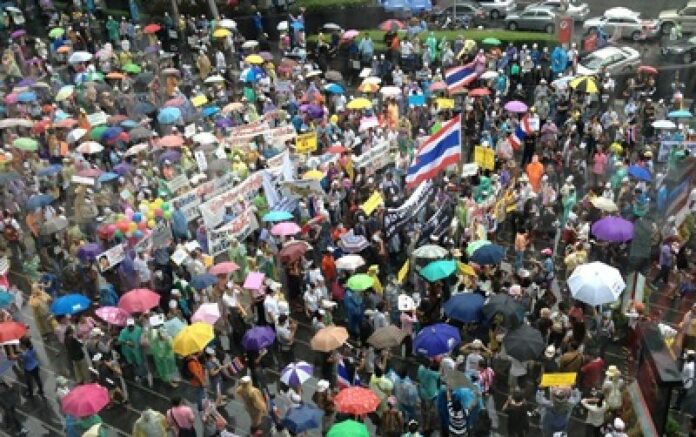 (23 June) Anti-government protests in Chiang Rai province were forced to call off their
rally early after some Redshirts showed up nearby to voice their displeasure but no clashes took
place.
At
14.00, around 20 anti-government protesters – which adopted Guy Fawkes masks as their dress
code – gathered at King Meng Rai monument in the town center. Approximately 50 Redshirts arrived
near the monument in their cars and trucks mounted with loudspeakers.
The Redshirts proceeded to
make speeches denouncing the so-called White Masks protesters. Around 100 police officers were
keeping close watch on the rival crowds. The anti-government disbanded their rally earlier than
planned, citing the fear for their safety.
However, the Redshirts also showed up in front of Pi Daeng restaurant on
Singhakrai Road, which is just 20 meter away from Muang Chiang Rai police station. They shouted
insults at the eatery′s owner, Ms. Chaliao Boonwanna, 61, who was reportedly responsible for
organizing the White Masks protest.
Speaking to our correspondent, Ms. Chaliao said she was surprised to see the Redshirts
protesting in front of her shop, but clarified that she did not feel particularly threatened because
there were police officers monitoring the situation nearby. Nevertheless, she said the protesters
should respect the rights of other people to express their opinions.
Our political idea are different, but we
are still residents of the same province, Ms. Chaliao said.
Chiang Rai, like many other provinces in
the Northern and Northeastern regions of Thailand, is known as stronghold of the Redshirts
movements.
Elsewhere, the weekly White Masks rallies went without any reported violence contrary to
the sporadic tension in the previous week.
In Prachinburi province, the anti-government protesters rallied at the plaza in
front of the City Spirit Shrine. Representatives of the Redshirts in that province said they
had no intention to stage a counter-protest, but they will join the activities marking 81st
anniversary of 1932 Revolution in Bangkok tomorrow (24 June).
White Masks were also rallying in Mae Hong
Sorn province – another Redshirt base – and some Redshirts were reportedly organizing their own
rally while police officers were deployed to keep the 2 factions separated. No violence or clash has
been reported, however.
The biggest rally of the White Masks were in central Bangkok, where
the police estimated that at least 2,000-3,000 people joined the protest. The organizers of the
event did not provide their estimate.
The Bangkok anti-government protesters suffered few
hiccups, though, after the Central World shopping mall refused to let the protesters stage their
rally in their plaza like in previous weeks. The shopping mall management released a statement
saying they did not oppose any political group, and that their decision to turn away the protesters
was due to their principle of maintaining
eutrality.