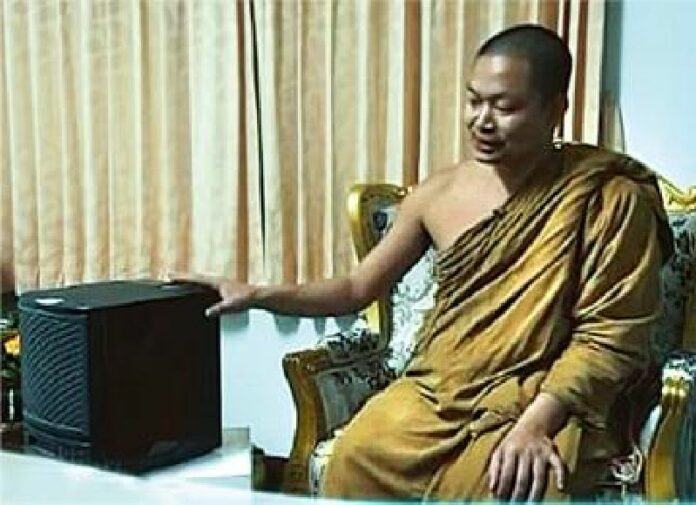 (25 June) The
controversial monk who had been much criticized by the public for his luxurious lifestyle and shady
financial background has appeared on an advertisement endorsing a brand of air purifier, a
revelation that would likely attract further scrutiny to the monk.
Scandals surrounding Luang
Pu Nen Kam Chattiko surfaced when he was filmed riding on private jet plane and sporting brand name
bag. Soon, it emerged that the monk has been cultivating a network of fervent and wealthy supporters
who had donated hundreds of millions of baht to his monastery.
Few years ago, he also
started gathering donations for construction of what he called the biggest Emerald Buddha in the
world, an enormous statue made of jade. The project is said to cost over 150 million baht and is
under final stage of decoration.
Recently it surfaced that he might also serve as a product
endorser. In the 6 minute long video on Youtube titled Experience of Luang Pu Nen Kam Chattiko, the
monk could be seen recommending the air purifier manufactured by Thaiunovus company to his spiritual
followers. He said the device made the air in his monk residence very fresh and helped keep him in
good health.
At one point, Luang Pu Nen Kam
even pointed out that the purifier comes with exquisite wooden controller panel like the one in the
Rolls Royce my followers have donated to me. He urged the faithful to donate the air purifiers made
by the company to monks around the country because donating clean air [processed by the machine] to
monks is similar to donating medicine to monks.
Speaking to our correspondent, a staff at
Thaiunovus said the company has donated one such device to Luang Pu Nen Kam out of faith. The
representative said that the company interviewed the monk so that he could offer his personal
experience with the air purifier. He insisted Luang Pu Nen Kam was did not receive any payment in
return.
In the meantime, the monk′s Emerald Buddha project might be run into legal
complication. Mr. Sahawat Naennar, director of the Department of Fine Arts, told our correspondent
that, according to a legislation enacted in 1977, one cannot simply construct a likeness of the
Emerald Buddha housed in the Grand Palace in Bangkok.
To do so, he said, one needs
authorization from the Office of the Royal Household and His Majesty the King himself. Mr. Sahawat
said his department had received no request from Luang Pu Nen Kam about the construction of the
imitate Emerald Buddha at his monastery. Therefore, the director said, his office will send a notice
to Luang Pu′s temple, advising them to comply with the law.
According to the law, 60 types of Buddha statues required official permit in
order to be constructed.