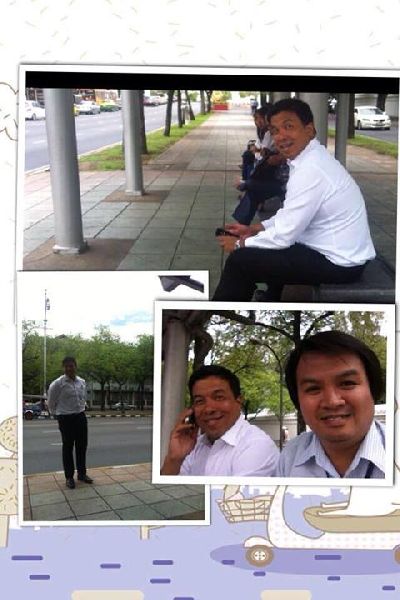 (27 June) A top official
in Thai government reportedly ditched his usual motorcade for a bus today because he wanted to find
out about quality of Thai public transport – and tasted the life of common Bangkokian by having to
wait for more than 30 minutes before getting on the bus.
Mr. Chirapong Prasertpollakrang, a
journalist who works for The Nation newspaper, tweeted photo of Mr. Chatchart Sittipat, Minister of
Transport, at the bus stop in Ratchadumnern Avenue, just across the Government House.
The
journalist wrote in his Twitter post that Mr. Chatchart said he was waiting for Bus 509, alone, to
catch his flight at Don Muang Airport. He reportedly told Mr. Chirapong that he would switch to Bus
29 at Victory Monument.
If true, the Minister of Transport would have traveled the route into
central Bangkok notoriously known for its traffic jam.
It appears to be what he wants,
though. Previously, on 25 June, Mr. Chatchart has stated to the meeting at the Ministry that he
expected high-ranking officials to travel by the buses operated by Bangkok Mass Transit Authority
and its private contractors at least once a week between July-August this year so they can inspect
the problems faced by many Bangkokians.
Many of these buses are in poor condition while
regular passengers complain about the rude service and reckless driving behavior by the
drivers.
Mr. Chirapong said he chatted with Mr. Chatchart for a while before excused himself
and left the Transport Minister at the bus stop on his own. According to Mr. Chirapong, he told Mr.
Chatchart his Ministry should also look into the endemic problems of tuk-tuk and taxi drivers
refusing to take passengers, especially in financial districts of Bangkok.
In another Tweet,
Mr. Chirapong said Mr. Chatchart sent a text message to him that he finally got on the bus after
waiting for more than 30 minutes.
The journalist dismissed accusations from anti-government
critics that he and Mr. Chatchart staged the encounter to enhance the Minister′s image.
I
was on the bus to work at the Government House when I saw the Minister waiting at the bus stop, so I
got off in the next bus stop and ran to talk with him, The Nation reporter
insisted.