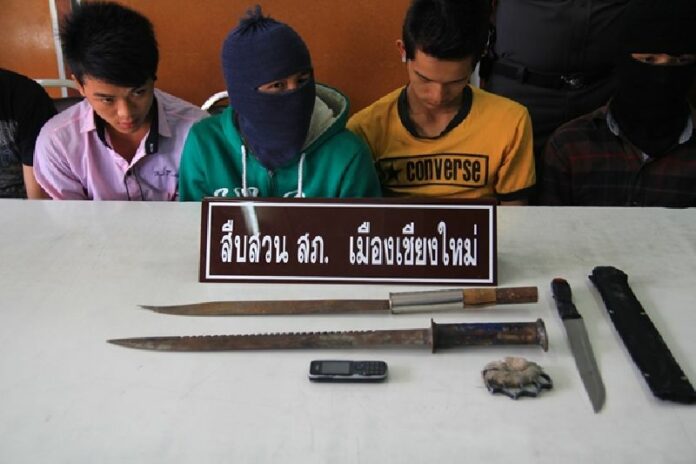 (28 June)
Chief of police in Chiang Mai province said he will work to prevent further clashes between gangs
of Tai immigrants and Thai individuals who are enraged by reports of robbery and assaults allegedly
committed by Tai immigrants.
Reports have been streaming from Chiang Mai that certain number
of Tai ethnics, who reside as immigrant workers in the province, has banded into gangs loitering in
the town center and causing disturbance to locals. Some of these gangs were also reportedly mugging
and beating up victims at odd hours.
One such incident was said to take place at 03.00 on 16
June. Police say 2 teenagers were assaulted by knife-wielding suspects who rode on 3 motorcycles and
spotted the victims as they were hanging around a bridge in Muang District.
The victims
reportedly fled on their motorcycle but the assailants caught up with them in front of a restaurant.
There, they were slashed with knifes on the heads, legs, and arms. The suspects also stole mobile
phone from the victims. Later, police arrested 5 Tai ethnics accused of committing the crime. The 5
Tai men reportedly confessed.
The worries over the so-called Tai gangs have led to
retaliation from Thai teenagers who formed vigilante groups and attacked Tai immigrants in the
province. Our correspondent said the situation forced many residents in town center to stay indoor
during night time, fearful of various gangs and vigilante groups who raced their motorcycles noisily
along the city roads looking for their rivals.
Recently, a Facebook page titled Campaign of
Taming Tai Gangs has been launched, gaining many ?Likes?. Many Facebook users wrote their
complaints about the alleged Tai gangs behavior, while some openly encourage vigilante actions
against the gangs.
Today, Pol.Lt.Gen. Chamnarn
Ruadrew, vice commander of Chiang Mai regional police, said he has instructed the police force step
up vigilance against both factions. He said that police will immediately step in and arrest the
individuals who gathered at any spot with intention to commit crimes.
Pol.Lt.Gen.
Chamnarn added that the police have also launched an operation to crack down on the Tai immigrant
gangs and have already detained many suspects.