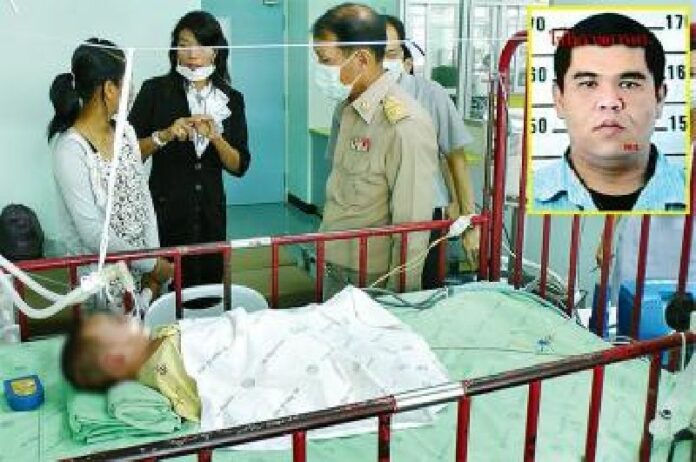 (1 July) 15-year old
mother in Pathumthai province told police her husband has rutally hurt her 2-month baby girl by
liquor in her mouth and slamming her on the floor, sending the toddler into coma.
The baby
has been receiving intensive care at the provincial hospital since 28 June. When the baby was
admitted to the hospital, medical staff told our correspondent, there was profuse bleeding in her
brain and intestines, while her body was bruised in many places.
The 2 month old toddler is
now attached to breathing apparatus. The governor of Pathumthani province has visited the hospital
and promised assistance to the baby′s mother.
Ms. A (real name undisclosed due to legal
reason), 15, said the baby is the child she had with the previous husband. Recently, she said, she
married Mr. Sanya Channu, 31, son of a senior police officer. Ms. A said Mr. Sanya makes his living
by leasing spots in markets to vendors.
According to Ms. A′s testimony to the police, she
was living with Mr. Sanya′s house at Lamlukka district. She said Mr. Sanya is an alcoholic man with
violent behavior who often beats her when he gets drunk.
She told police she has asked for
divorce many times but he refused, and she endured his abusive treatment because she was fearful of
Mr. Sanya′s influence as a high-ranking police officer′s son.
On the day of the incident, Ms.
A said, Mr. Sanya was holding her baby but she defecated on him, which drove him very mad. The baby
started crying very loudly, so Mr. Sanya reportedly poured liquor into her mouth to make her stop
crying, then slammed the baby hard onto the floor. Ms. A said she hurried the baby to the
hospital.
Later, police arrested Mr. Sanya on charge of deliberate murder when he was
visiting the hospital to ask the medical staff to hand the baby back to him. Mr. Sanya denied all
charges and told police he wished to speak in court.
Ms. A is currently staying at a
governmental emergency shelter for abused women. She said she intended to pursue the matter against
Mr. Sanya until she has justice.