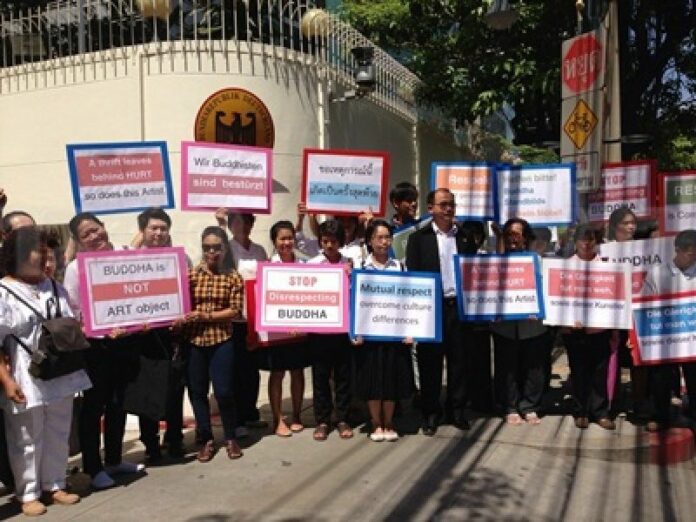 BANGKOK – Buddhist activists rallied in front of the German Embassy in Bangkok today to voice their opposition to art installation in the German city of Munich which involved Buddha statue lying on his back.
The protest. billed as a "peaceful way to stop the insults on Buddhism", was led by the World Fellowship of Buddhist organization and attended by approximately 300 supporters.
Mr. Ponchai Pinyapong, representative of the group, said the protesters are incensed by display of Buddha statue lying on his back in the old market area of Munich, which was a part of art project overseen by Mr Hans-Georg Kuppers, chief of the city′s cultural department. The project is said to be on display till September.
Mr. Ponchai considered the display of Buddha in such manner "unacceptable" because Buddha was a holy figure that should not be treated with disrespect. He said he had received complaints from Thai Buddhists in Germany, and his group demanded German government to intervene and stop the art project without delay.
He said the artist had no understanding of true Buddhism, and had offended Buddhists around the world.
An official from the German Embassy received the group′s complaint letter and assured the protesters that the complaint will be relayed to the German cultural department. The protesters then dispersed, but not before announcing that they would "escalate" their protest if no action had been taken in near future.
Hardline Buddhists, often backed by the national Buddhist organization, have previously made many complaints to shops, restaurants, and art galleries in Western countries that have displayed Buddha figure in the manner they consider to be "blasphemous".
There is even a group on Facebook called "Do And Don't on Buddha" which is dedicated solely to naming and shaming of those who "inappropriately" display the Buddha figures.