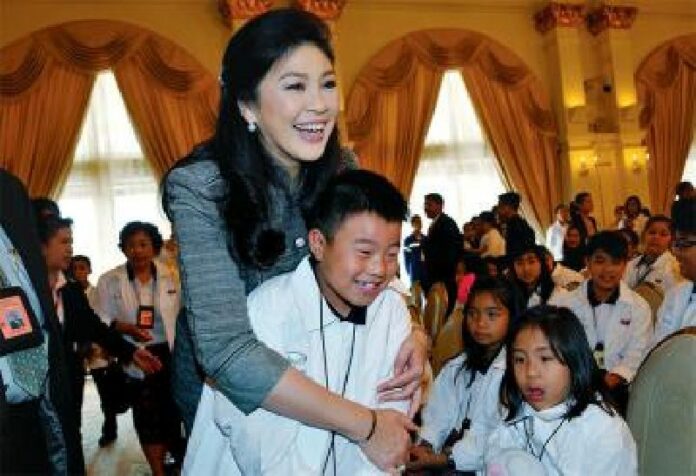 (9 July) PM Yingluck Shinawatra vowed that there would be no military coup in Thailand,
dismissing the rumor about imminent coup that has been spreading after Ms. Yingluck was named
Defense Minister in the latest Cabinet reshuffle.
Although Thailand has been flooded with rumors of possible coup for
the last 5-6 years – following the actual coup in 2006 which deposed Ms Yingluck′s brother – the
news of recent military intervention in Egypt has given idea to some anti-government critics that
the Thai military might become fed up with perceived mismanagement of the Yingluck administration
and followed Egypt′s example.
Ms. Yingluck appeared to be aware of such comparison as she said in the press conference
that The lesson can be learned from other countries. I believe no one wants to do harm to their own
country.
Asked if she had talked to Gen. Yuthasak Sasiprapa, the Deputy Minister of Defense,
about the rumor, the Prime Minister said she and Gen. Yuthasak have indeed consulted with each
other, but only on official matters.
In the same press conference, Ms.
Yingluck also insisted that everything is not a political game, and that being politicized will
makes people biased against facts and opinions.
Ms. Yingluck said
time will prove that the government is doing their best under limited circumstances to yield great
benefits for everyone. She acknowledged that as the government is working towards their 3rd year in
the 1st term, it is likely that the administration is facing increasingly tougher
issues.
However, it depends on the people whether this government would
work full term, but I believe that the people will give the government a chance, she was quoted as
saying.
Ms. Yingluck also commented on the leaked audio clip which
allegedly revealed conversation between 2 top politicians about the plan to bring her brother Mr.
Thaksin Shinawatra back home to Thailand. Mr. Thaksin, ousted in 2006 military coup and convicted in
absentia of corruption charges, remained influential and polarizing figure in Thai
politics.
She said the audio clip does affect the government but noted
that officials still need to carefully investigate the issue.
When a reporter asked her if she had
talked to Mr. Thaksin recently at all, Ms. Yingluck simply smiled and left the press
conference.