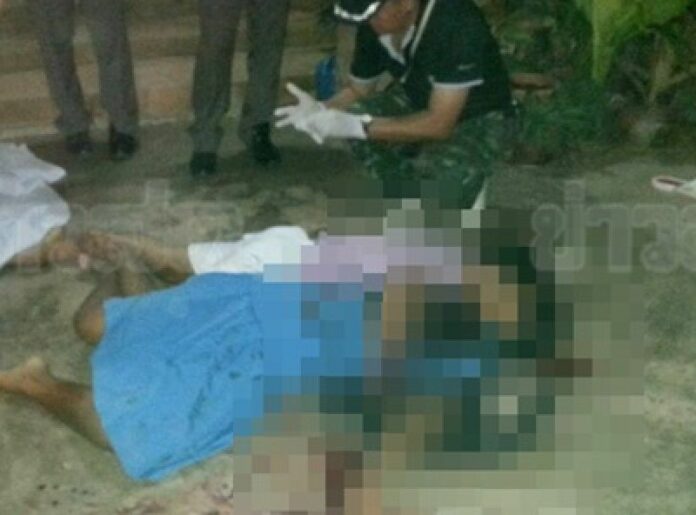 (10 July) A 14-year old school girl and her boyfriend in Chumpon
province were stabbed dead following what witnesses describe as a heated argument with a man over
their love triangle.
Police officers arrived at a school in
Sawee district after receiving call of the incident around midnight to find the dead body of Ms. B
(real name undisclosed) in the pool of blood near the school ground. She was dressed in Girl Scout
uniform and carrying a school bag.
The
body of Mr. Wanchai Kosol, 24, was found nearby. He was stabbed in his left side of the chest, rib
cage, and his wrist while Ms. B was stabbed in both
sides of her chest and her back. The knife was stuck on Mr. Wanchai′s
chest.

Witnesses said they saw Mr. Wanchai, Ms. B, and an unidentified male teenager
arguing loudly near the school. It appeared that both Mr. Wanchai and the suspect are partners of
Ms. B and they were trying to settle the issue for good, according to the
witnesses.
Eventually, witnesses said, the suspect
attacked Ms. B with the knife, and as Mr. Wanchai tried to defend her he was stabbed, too. The
suspect reportedly fled the scene immediately.

A local told our correspondent Ms. B was
already dating Mr. Wanchai when she fell in love with the suspect, who demanded that Ms. B break up
with Mr. Wanchai, but she appeared to be reluctant to do so.